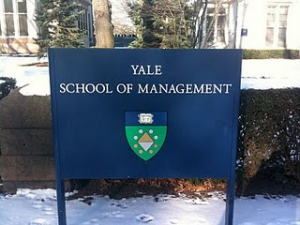 The Yale School of Management (SOM) today is welcoming student teams from around the world for its inaugural National Low Carbon Institutional Investing Case Competition, the first of its kind in the United States. The event was planned by a Yale SOM student group in collaboration with the school's International Center for Finance.
Competing teams will be challenged to devise a strategy to help a hypothetical university lower the carbon intensity of its investment portfolio – and in so doing help address the risks of climate change on the university's endowment and society as a whole.
Eleven teams are competing in the competition's first year, each consisting of four students, two of whom must be MBA candidates. Participating schools include Mexico's EGADE Business School, Yale SOM, New York University's Stern School of Business, UT's McCombs School of Business, the University of Chicago Booth's School of Business and Cornell's S. C. Johnson Graduate School of Management.
Goldman Sachs former Head of Risk Management Bob Litterman will lead a panel of judges who will evaluate the teams, both on the analysis and integration of carbon emissions metrics and the expected performance of the proposed portfolio scenarios.
In addition to the competition, the day's events will also include panel discussions on low-carbon investing. Kenneth Gillingham, assistant professor of economics at Yale, and Peter Knight, founding partner and president of Generation Investment Management, will deliver keynote addresses.
The winning team in the low carbon case competition will receive $10,000, as well as an opportunity to pitch its plan to the Commonfund Forum in March 2015.
Learn more about Yale SOM's inaugural low carbon case competition.