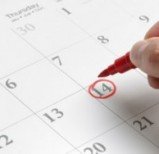 As we prepare to bid goodbye to 2014 and greet the deadline-packed first month of 2015, we would like to take the opportunity to recap the upcoming Round Two deadlines and offer some advice for hardworking applicants.
First, a summary of this month's deadlines along with the exact time each application is due:
Sunday, January 4th:
CMU / Tepper, 11:59pm EST
Monday, January 5th:
Duke / Fuqua, 11:59pm EST
Georgetown / McDonough, 5:00pm EST
London Business School (LBS), 5:00pm UTC
Michigan / Ross, 11:59pm EST
UPenn / Wharton, 5:00pm EST
Tuesday, January 6th  
Chicago Booth, 5:00pm CST
Dartmouth / Tuck (R3), 5:00pm EST
Harvard Business School, 12:00pm EST
UT Austin / McCombs, 11:59pm CST
Wednesday, January 7th
Berkeley / Haas, 11:59pm PST
Columbia Merit Scholarship Consideration, 11:59pm EST
Cornell / Johnson (R3), 11:59pm EST
Northwestern / Kellogg, 5:00pm CST
Stanford GSB, 5:00pm PST
UCLA / Anderson, 11:59pm PST
UVA / Darden, 5:00pm EST
Thursday, January 8th
MIT / Sloan, 3:00pm EST
Yale SOM, 5:00pm EST
Friday, January 9th
Cambridge / Judge (R3), 5:00pm UTC
Emory / Goizueta (R3), 11:59pm EST
Oxford (R3), 11:59pm UTC
Tuesday, January 13th
IESE, 11:59pm CET
Wednesday, January 14th
INSEAD September Intake (R3), 11:59pm CET
Thursday, January 15th
ISB, 11:59pm IST
NYU / Stern (R3), 11:59pm EST
USC / Marshall, 11:59pm PST
Friday, January 16th
UNC / Kenan-Flagler (R3), 5:00pm EST
For those candidates who have already submitted their Round Two applications, we wish you a hearty congratulations and a happy New Year!  However, for the many applicants still working feverishly to finish, we offer a few pieces of last-minute advice:
1) Prioritize. The difference between a January 4th and 9th deadline didn't matter much when you started working on your applications in the fall.  However, with just a few days remaining, make sure you are taking deadlines into account as you prioritize your work.  Though your Stanford essays may need the most revising, save that polishing until after you turn in the Tepper application on the 4th.  Similarly, for those of you really facing the crunch, you may need to take a step back and pare down your list of target schools, as it's better to submit three or four solid applications than it is to turn in six half-baked efforts.
2) Proof. Tired of reading the same essay for the 19th time?  Ask a friend, family member or Clear Admit consultant to provide a final read through, checking for grammar, punctuation, typos, and other easy-to-miss mistakes.  Don't let a careless error be what the admissions committee first notices about your application.
3) Get a good night's sleep!  While New Year's celebrations will offer a tempting distraction, remember that clear writing comes from clear thinking, and clear thinking is helped by a good night's sleep.  Ring in the new year, but save the real partying for after the application deadlines!
4) Avoid Loose Ends.  While focusing frantically on essays is likely a high priority, do not overlook the fact that there are other components to your application package.  Have you checked with your recommenders to ensure that they've done their part?  Have you gathered any needed information for transcript reports?  Have you worked on the application forms (employment history, activities listings, etc)?  In the rush to submit, many applicants overlook these critical areas, resulting in an inconsistent application.
As always, you can contact Clear Admit to learn more about our admissions consulting services.