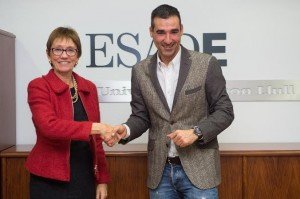 Spain's ESADE will become the business school partner of Ecommerce & Tech Barcelona, an initiative bringing together leading digital companies in and around Barcelona, the school announced today. The new agreement, signed yesterday by ESADE Director General Eugenia Bieto, strengthens the school's ties to the digital business community and its support for the digital entrepreneurial ecosystem.
ESADE is dedicated to "guiding digital entrepreneurs throughout the growth process and strengthening their executive and leadership skills," Bieto said in a statement. The alliance between the business school and the Ecommerce & Tech cluster will facilitate both a study of the impact of the digital entrepreneurial initiative in Spain and the development of academic case studies featuring projects undertaken by the cluster's entrepreneurs.
"Business schools are a major source of new entrepreneurs that combine technological knowledge with solid training in business skills," Miguel Vincente, Ecommerce & Tech president, said in a statement. "As a global partner of Ecommerce & Tech that is committed to the tech and digital sector, ESADE will play an extremely important role in consolidating the businesses of today's entrepreneurs as well as future generations of even better prepared entrepreneurs."
As part of the new agreement, ESADE and Ecommerce & Tech will together conduct the study of the digital entrepreneurial sector, publishing their findings in a joint report. ESADE also will develop a range of new educational offerings to help digital entrepreneurs strengthen their executive and leadership skills. Business school students at ESADE, meanwhile, will use the case studies developed on Ecommerce & Tech's digital companies and entrepreneurs in their classrooms, and executives from the companies will visit and participate in classroom discussions themselves.
The Ecommerce & Tech cluster is made up of leading companies in Barcelona's entrepreneurial tech sector – including LetsBonus, Privalia, Groupalia, Anuntis, eDreams, Trovit, Softonic and Ulabox – as well as investment funds, business angels and business accelerators. Since its launch a year and a half ago, it has grown to more than 170 associates representing more than 250 Barcelona-based companies in the tech and digital sector. One of its goals is to triple the number of companies in the sector by 2018.
Bieto sees the agreement as an opportunity to consolidate Barcelona as a worldwide leader in the digital economy. "The sort of public-private collaboration promoted by this cluster is the best way to achieve this," she said in a statement.
Learn more about the partnership between ESADE and Ecommerce & Tech.