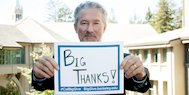 The University of California at Berkeley recently launched a single-day online fundraiser, and participating students from the Haas School of Business outnumbered those from any of the university's other schools.
The Big Give, UC Berkeley's first-ever 24-hour campus-wide online fundraiser, kicked off at 9 p.m. on Wednesday, November 19th. When it ended 24 hours later, Berkeley-Haas had raised about $561,000 from 651 donors, the school reports. 
"Hundreds of alumni, students, staff, faculty, parents and friends came together to maintain the excellence of the Haas School of Business," Michelle McClellan, Haas assistant dean of development and alumni relations, said in a statement. "It's a great testament to our school and our community," she added, noting that gifts, tweets and posts from the Haas community came in throughout the fundraiser.
To get the word out about the event, UC Berkeley produced a video and social media campaign to reach its 450,000 alumni worldwide. In all, UC Berkeley raised $5.3 million as part of the single-day fundraising effort.
As part of the event, donors from around the globe and all of the university's schools posted Big Give selfies on twitter and Facebook. Haas Dean Rich Lyons took to Facebook holding signs that read "Big Innovation" and "Big Culture."
To generate friendly competition between the schools, the fundraiser also included a range of prizes for different milestones. Haas won $1,500 for having more student donors than any other school. Prizes were also awarded to the schools that brought in the greatest percentage of overall funds raised, the most number of international gifts and more.