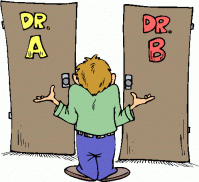 With the majority of schools having released their Round One decisions, many successful applicants will soon be facing the enviable – but often agonizing – decision of choosing between programs.  Though we know that those of you in this position will already be juggling an overwhelming amount of information about the schools on your short lists, we wanted to offer a few pointers to consider as you identify and evaluate the most important facts and factors in making the choice between b-schools.
1) Immerse yourself.  If you have not yet visited campus, go to the school and see what you think of the environment. Be sure to attend classes, talk with students, tour the facilities, and so on.  Even if you have already made the trip, it's a good idea to attend the school's events for admitted students to meet your potential classmates.  After all, these are the folks whose thoughts you will be hearing in class for two years and who will making up your future network.
2) Consider your immediate priorities.  Think about the location, size, teaching method, etc.  Are you looking for a close-knit, "we're all in this together" sort of experience, or would you prefer to attend classes and then disappear into a large city with a few classmates or old friends?  Do you need the benefits of a large university to pursue coursework in a specific field?  Do you crave lengthy discussions with faculty?  Do you have family or a significant other who might need to consider your location?  Are you strong in qualitative areas but looking to refine your skills in quantitative subjects?  Is there a teaching method that might better address your weaknesses or best suit your learning style?  Reflecting on the relative importance of each of these questions might help you to organize your thoughts about and the information on each program.
3) Look farther forward.  In addition to the experience you would have as a student, try to get a sense for the school's track record in your target field.  For example, if you hope to become a strategy consultant after school, take a look at each program's placement statistics with the firms that are of interest to you.  Talk to the career management office and find out which firms came to campus and how many offers were made.  You might also try to contact alumni who work in your target field and see what they have to say about their alma mater's strength in that area.  A final option is to approach the HR departments of the firm you are likely to target and ask for their opinion of the programs on your list.  This is also a nice excuse to build rapport with a potential future employer.
4) Think big. Beyond the job you hope to secure immediately after school, consider the program's regional and global brand.  For example, if you are looking for work in London, you might investigate whether the school in question has an active alumni club in that city.  Meanwhile, if you dream of working in Los Angeles but are debating between two programs on the East Coast, it might be important to determine which has the greater West Coast presence.
These are just a few general tips to get you thinking about how to make your b-school decision.  It goes without saying that this is a once in a lifetime decision, so it certainly makes sense to do your homework and fully understand the strengths and weaknesses of each of your options.  Rankings are a good starting point for a school search but should not be the deciding factor.  Reading in-depth, independent reports on each program can be helpful, so be sure to check out the Clear Admit School Guides for their extensive cross-school comparisons on placement, class composition, campus life and more.  Another thing to remember that the shoe is finally on the other foot, and the schools are now the ones marketing themselves to you.  Be sure to take advantage of their offers to answer any questions you may have.