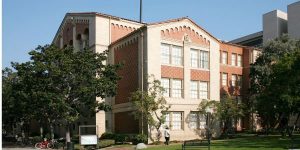 A student-led club at the University of Southern California (USC) Marshall School of Business will draw executives from Google, Amazon Studios, Electronic Arts and others to its 7th annual Evolution of Entertainment (E2) Conference later this month, the school announced.
The conference, hosted by MBA student group Business of Entertainment Association, will take place on Friday, February 27th. This year's topic, "Convergence: Mobile, Media and Technology," will focus on the overlap of media, technology and entertainment across all platforms. Corporate sponsors this year include Entertainment Arts, OnPrem, Warner Bros., SanDisk and Deloitte Digital.
John D. Lynch, head of production at Amazon Studios, Richard Hilleman, chief creative officer at Electronic Arts and Angie Barrick, head of industry, media and entertainment at Google, Inc. all are scheduled to speak at the event, which is presented in partnership with Marshall's Institute for Technology Communication Management and the USC Annenberg School for Communication and Journalism. Representatives from Pandora, Makers Studio and IBM are also slated to speak, among others.
Since its debut in 2008, Marshall's E2 Conference has been drawing together thought leaders from the technology, media and entertainment industries, offering students interested in these fields a valuable networking forum. Last year's conference drew more than 300 students and professionals, the school reports.
Learn more about the E2 Conference at USC Marshall School of Businesss.