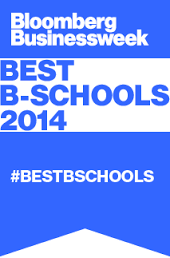 When Duke's Fuqua School of Business shot to the top of Bloomberg BusinessWeek's 2014 rankings, Fuqua celebrated, but many others in the admissions world scratched their heads. How could a school ranked 22nd in student satisfaction kick long-standing, top-ranked schools to the curb? (FYI : Duke had only ever finished in BW's top five once, 14 years ago, when it came in fifth.)
Amid widespread questions of credibility regarding the new methodology that led to the 2014 results, Bloomberg BW this week (March 16) emailed business school officials to say that it has plans for yet another overhaul of its rankings methodology and plans to publish a new ranking incorporating new and differently weighted core metrics next October. It also announced that beginning with the October publication, its MBA rankings will now be published annually, a major shift from the biennial schedule it has upheld since the BW rankings launched in 1988.
The system that generated the eyebrow-raising 2014 results was based on three core metrics: student satisfaction, recruiter opinion and the research published by a business school's faculty. In this next overhaul, Bloomberg BW says it plans to scrap the intellectual capital metric and include Class of 2014 placement rates three months after graduation and starting compensation for the combined classes of 2012-2014. These metrics will each be weighted 10 percent. Meanwhile, the weight given to student satisfaction surveys will drop significantly, to 15 percent from 45 percent. A newly introduced survey of alumni will count for 30 percent of the overall score. Finally, its survey of corporate recruiters will also carry less weight, down to 35 percent from 45 percent, and will rely on a single year's worth of employer opinion data.
Phew. That's a lot of changes to keep track of, but the main shift, toward including more pay and placement data and weighting it more heavily than student satisfaction, will make Bloomberg BW's new methodology more in line with many of the other popular rankings, which place greater importance on pay and placement data. Bloomberg BW says that it plans to use 2014 pay and placement data, even though newer data will be available in time for the forthcoming rankings, scheduled to be published in October. The magazine did not explain why it has chosen to use year-old data.
Here's exactly  what Bloomberg BW said it its message to business school officials regarding the changes:
"We will strengthen the focus of our Full-Time MBA Rankings methodology by evaluating how well programs help graduates achieve their career goals. As such, we will no longer rank schools on faculty research output (the portion of our previous rankings model called Intellectual Capital). We will also introduce an alumni survey, and we will include more employment outcome data in our rankings model."
In addition to increasing the frequency of its full-time MBA rankings to every year, the magazine also announced that its undergraduate business school rankings will be published annually each spring, beginning in spring 2016. Meanwhile, the magazine plans to cease its Executive MBA and executive education rankings, but it will now publish its part-time MBA rankings annually, alongside its full-time MBA rankings.
As always, those of us here at Clear Admit encourage prospective applicants to use rankings as just one of many data points when determining which MBA program or programs might best meet your individual needs and goals, especially as those ranking the schools themselves still seem to have some tinkering to do.