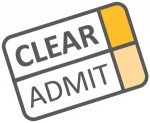 Clear Admit today announced plans to expand its presence as a leading source of high-quality content about MBA admissions and top-tier MBA programs through its digital media property, ClearAdmit.com, and its suite of digital publications. To focus exclusively on creating valuable content resources for graduate business school applicants, Clear Admit will exit the MBA admissions consulting space.
Founded in 2002 by Wharton graduates, Clear Admit.com has been recognized by Google, the Economist and leading industry associations like the Graduate Management Admissions Council (GMAC) for its superb coverage of MBA admissions and leading MBA programs.
Hundreds of thousands of prospective applicants have relied on Clear Admit digital content each admissions cycle to help them navigate the admission process. Throughout, Clear Admit has worked closely with leading business schools, including UVA's Darden School, Cornell's Johnson School, HEC Paris and Georgetown McDonough, among many others, to ensure that the information posted about MBA programs is accurate and timely. With this expanded focus on content, readers of Clear Admit's website and publications should expect even greater depth and breadth in the coverage provided.

"In 2003, we launched an MBA admissions blog as a means to draw clients to our consulting services, but before we knew it, the site itself had become much larger than our consulting practice," says Clear Admit CEO Eliot Ingram. "We enjoyed early success with the media property, which led us to add multiple digital publications, grow an extensive social media presence and following, and build several online tools for young professionals to exchange information and track their process while applying to top schools."
As ClearAdmit.com's audience numbers have steadily climbed, Clear Admit has continually added new content initiatives and technological innovations. The latest such feature, MBA LiveWire, has quickly become one of the most popular areas of the site, drawing tens of thousands of MBA applicants and rivaling the main news page in total traffic. Clear Admit's publications, especially its series of School Guides and Interview Guides, as well as its Interview Archive, have also been widely popular.
For members of the Clear Admit community seeking admissions consulting services and GMAT test preparation assistance, Clear Admit has partnered with Veritas Prep, which will now be the exclusive provider of these services. "We are honored to have partnered with Clear Admit to deliver services to their vast audience of top-tier candidates," Scott Shrum, Veritas vice president of marketing, said in a statement. "For more than a decade we have respected the quality of Clear Admit's MBA applicant resources, and we look forward to helping their users thrive in the admissions process."
Read the full press release Clear Admit issued today on PRWeb.