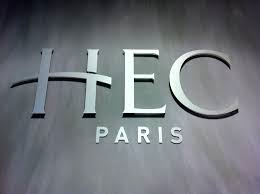 HEC Paris is more than halfway to its goal of raising €150,000 in 50 days to help further an entrepreneurial boom underway at the school. The HEC Foundation launched the school's first-ever fundraising campaign focused entirely on entrepreneurship earlier this year. Today, 23 days into the campaign, 61 donors have pledged a combined €80,427, putting the school well on track to meet its goal.
Interest in entrepreneurship at HEC Paris has soared over the past decade, with entrepreneurial-focused students representing 25 percent of the class today, up from only 4 percent in 2004, the school reports. The HEC Foundation's recent fundraiser was launched to support the growing entrepreneurship goals of HEC students. "Our goal is to make the Entrepreneurship Centre a showcase of the commitment to openness and diversity of HEC, to increase the rate of student success in creating their business, and to facilitate integration of technological resources of the Saclay cluster into student projects," the school said in a statement.
As part of a commitment to social diversity, HEC Entrepreneurs aims to be the campus program that offers the highest percentage of scholarships. Specifically, it wants to designate €70,000 to fund five HEC Entrepreneur scholarships, representing 10 percent of the MS class.
To increase the rate of success among students who launch their own businesses, funds raised would help reinforce the schools mentoring and coaching capacity with a permanent contact point in Paris as well as fund new office space for HEC's Incubator.
Finally, the Paris-Saclay research and business cluster currently under construction in the south of Paris was recently ranked as a top-eight "World Innovation Cluster" by MIT Technology Review. It features a new e-Lab created in May 2014 but lacks important community building workspaces. The HEC Foundation hopes to put €30,000 of the funds raised toward creating open spaces that will bring HEC and Paris-Saclay students together to work collaboratively, giving HEC students the opportunity to tap the significant technological expertise at Paris-Saclay.
The HEC Foundation is appealing mainly to graduates of HEC Paris to support this fundraising campaign, though anyone interested in entrepreneurship is obviously welcome to contribute.
Learn more about HEC Paris's fundraising campaign to support entrepreneurship.