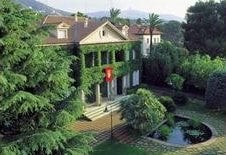 Spain's IESE Business School has reached an agreement with U.K.‒based Prodigy Finance that will enable it to offer a new loan to international MBA and Global Executive MBA (GEMBA) students to help them finance their studies, the school announced this week. In other words, financing an IESE education just became much easier for students who live outside of Spain.
The new deal expands IESE's existing loans and scholarships, which help students cover tuition fees and living costs. International students, though, have faced hurdles because existing loan programs offered by IESE have required co-signers.
Prodigy Finance's program is based on a community-funded model in which international students attending MBA programs abroad receive loans made possible by investments from alumni of the school they attend. In this newest agreement, alumni who attended IESE will invest in a bond to fund current IESE students. Additional investors through the Prodigy Finance model often include the business schools themselves, the school community and other investors or institutions interested in higher education or social impact. By investing in these current international students, they are also investing in the value of the given school's MBA program.
To qualify for this new Prodigy Finance loan, international MBA and GEMBA applicants must provide proof of acceptance to IESE. The applicant then completes a 20-minute online application process, indicating the amount he or she hopes to borrow and providing the Prodigy Finance team with the information it needs to prepare customized loan terms based the individual's profile. Within 2 business days, applicants receive conditional approval, their interest rate and their loan amount.
Once conditional approval is in place, the borrower can accept the terms, pay an administration fee (which ranges from between 2.5 and 3.5 percent of the approved loan amount, depending on the length of the program), provide supporting documentation and be on their way to the MBA program of their dreams. Once they arrive at school, they will digitally sign the loan agreement, and funds will be disbursed directly to the school. In instances in which a student's loan amount exceeds tuition, additional funds for living expenses will be deposited directly into the student's bank account.
Through this new agreement with IESE, international students can obtain loans through Prodigy Finance to cover up to 100 percent of the program's tuition, with competitive repayment terms and interest rates and no need for a co-signer. Borrowers will have a period of ten years to repay the loan, with the option of early repayment, and with no installments due during the program of the first six months afterward. They can also make payments to Prodigy Finance in more than 30 countries without incurring international wire transfer costs.
Since its launch in 2007, Prodigy Finance has grown to include agreements with more than 40 schools across the United States, Europe, Asia and Africa and to provide loans to students from more than 150 countries.
Learn more about the new agreement between IESE and Prodigy Finance for international loans for MBA and GEMBA students.