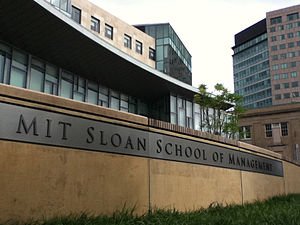 If you are considering how an MBA from MIT Sloan School of Management could help advance your career in finance, an upcoming workshop was made for you. The MIT Sloan Admissions Office has collaborated with several other offices and groups to organize a jam-packed day full of activities next month, all geared toward highlighting MIT Sloan's strengths in finance for prospective MBA applicants.
The MIT Sloan Focus on Finance Symposium will take place on campus on Saturday, May 9th. The event is a joint effort between the Admissions Office, the MBA and Master of Science in Management Studies program office and the MIT Sloan Finance Group. The day-long workshop will include two sessions taught by finance professors Nittai Bergman and Rajkamal Iyer, including a case study in which participants will get to work together addressing questions of capital structure and financial distress.
There will be a round table discussion lunch with current MBA students as well as presentations on the admissions process and career opportunities after an MBA. The day will conclude with a networking reception overlooking the Charles River, where participants will get to interact with MIT Sloan faculty and current students.
"MIT Sloan students have an entrepreneurial spirit, a drive to think critically and a passion for improving the world around them," characteristics especially important in finance today, says Professor Antoinette Schoar, who heads the finance group at MIT Sloan. The Focus on Finance Symposium will give prospective students a chance to experience firsthand what sets the MIT Sloan community and curriculum apart, she added.
The event is targeted toward young professionals who may not have fully imagined potential future careers in finance yet. "Our goal is to give early-career finance professionals an opportunity to consider how an MBA, and in particular an MBA from MIT Sloan, could help them to accelerate their trajectory in the industry or to transfer their skills into a related field," Maura Herson, director of the MBA and Master of Science in Management Studies program office, said in a statement.
Students who do choose to study finance at MIT Sloan can enroll in the school's MBA finance track, take part in a range of finance-focused student clubs and conferences and choose from a wide variety of electives, such as alternative investments, behavioral finance and mergers and acquisitions.
In addition to getting an in-depth understanding of what MIT Sloan has to offer its finance students, attendees at the Focus on Finance Symposium who apply to the MIT Sloan MBA program will have their application fee waived.
Learn more about MIT Sloan's upcoming Focus on Finance Symposium.