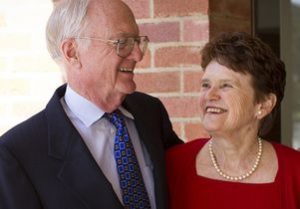 A $10 million gift from two UCLA professors will create a new marketing center at the UCLA Anderson School of Management, the school announced earlier this month. The gift, from UCLA Anderson Professor Emeritus Donald Morrison and his wife, Sherie Morrison, UCLA distinguished professor of microbiology, immunology, & molecular genetics, will establish the Morrison Family Center for Marketing Studies and Data Analytics. The generous gift is the largest ever from a UCLA Anderson faculty member.
The new Morrison Family Center will enable academics and practitioners to use data and analytical tools to better understand consumer markets and behaviors, enhancing Anderson's existing marketing curriculum and academic research.
"Marketing isn't just about creative thinking today," Don Morrison said in a statement. "It includes more quantitative research that incorporates the art of econometrics, big data, psychology, behavioral research – all under the umbrella of 'marketing studies.'" Recognizing this, the Morrison Family Center will support visiting scholars and Ph.D. students' interaction across disciplines and offer funding for expanded faculty and student research and conference participation that could impact the marketing field.
The Morrison family's ties to UCLA run deep. Both of their daughters earned MBAs at Anderson, and they have provided financial support to the school's athletics and biomedical sciences departments in addition to this most recent gift. Much of their philanthropy has been made possible thanks to Sherie Morrison's trailblazing work developing genetically engineered antibodies, research that was lauded as a scientific breakthrough and has led to the development of many therapeutics. Currently, Sherie continues her advanced research studies using antibody-based therapeutics to treat cancer.
"Giving is about where your money and time make a difference," Sherie Morrison said in a statement. "One of the reasons we have been generous with Anderson is due to our two daughters who earned their MBAs there, and who now enjoy very successful business careers. And during the 27 years that Don and I have been with UCLA, I have been embraced by the Anderson community."
An additional $1 million of financial support for the new center was provided by another longtime supporter of UCLA, The Rosalinde and Arthur Gilbert Foundation, through Richard S. Ziman and Martin Blank, Trustees. The funding from the Gilbert Foundation will sponsor several events within the Morrison Family Center, including a lecture series, conferences and an annual marketing camp.