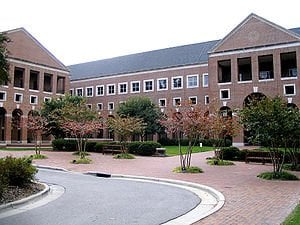 If you don't fully understand the role of private capital markets in the global economy, you are not alone. The University of North Carolina Kenan-Flagler Business School has launched a new Institute for Private Capital (IPC) designed to help change that.
"The institute will come to define how private capital is taught and learned in every business school," said Kenan-Flagler Dean Douglas A. Shackelford. He announced the new institute at the school's eighth annual Alternative Investments Conference on April 24th to an assembled crowd of more than 150 business and academic leaders and business school students.  
The plan for the IPC is to create databases, produce research and develop curriculum and educational initiatives that are missing today. Included within the database will be private capital investment – such as venture capital funds, buy-out and growth capital funds, hedge funds, debt funds, real estate funds, natural resources funds, and closely held and family businesses.
"By creating the most comprehensive database on private capital in the world, we will be able to provide dependable information, ground-breaking research and accurate benchmarking across the industry and the academy," said Gregory W. Brown, Kenan-Flagler professor of finance and director of the IPC. "Few academic researchers focus on private capital because so little data is available – and IPC will change that."
Dean Shackelford called the creation of the IPC just the beginning, indicating that Kenan-Flagler plans to expand its focus on research, teaching, public policy and outreach initiatives that affect private capital markets. "Since private capital constitutes the majority of global capital, IPC research will have a significant impact on practice and policy, and will spur curricular innovations nationally and internationally," he said in a statement.
UNC Kenan-Flagler is also home to the Private Equity Research Consortium (PERC), where academic and industry experts collaborate to generate new knowledge about private capital markets based on objective academic research. The success Kenan-Flager has experienced with PERC will help guide the work of the newly formed IPC.
A research council will help identify important areas for new research and provide feedback on projects the IPC undertakes. Founding members of this research council include Raymond Chan of Adams Street Partners, Peter Cornelius of AlpInvest Partners/The Carlyle Group, Barry Griffiths of Landmark Partners, Michael Miles of Guggenheim Investments, Kevin SigRist of the North Carolina Retirement Systems, Ruediger Stucke of Warburg Pincus and Brown.
Learn more about UNC Kenan-Flagler's new Institute for Private Capital.