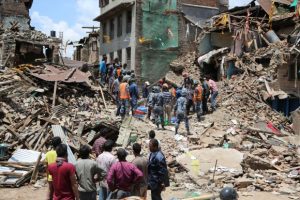 Yesterday, a student at Oxford's Saïd Business School challenged her fellow students to donate to a fundraising campaign for victims of the Nepal earthquake, pledging to personally match every dollar raised in the next seven days, up to $20,000. Today, the school is already 24 percent toward its goal, having raised $4,875.
Elsewhere around the country and the world, business school students are likewise putting their money where their mouths are. Still others are pitching in with person power and organizing know-how, helping bring much needed relief to a nation devastated by a 7.8-magnitude earthquake feared to have affected some 8 million people or more.
April Chapman, who pledged to match funds raised by the students in Saïd's Diploma in Strategy and Innovation program, said that social media posts and emails began to fly as soon as the news broke, and her cohort immediately decided that raising an immediate financial gift would be the best way to make a difference. Chapman serves as co-chair of the World Vision Innovation Fund, a faith-based humanitarian development and relief organization serving the poor in more than 100 countries. World Vision's staff in Nepal, along with staff mobilized from other countries, are delivering temporary shelters, food, hygiene kits, water, emergency health and protection for children, according to a release from the organization.
As some business school students worked from afar to amass and send funds and supplies, others are hard at work on the ground. Yale School of Management alumnus (MBA'14) Lokesh Todi returned to his native Nepal last year after graduation. Surviving the earthquake unharmed, Todi and his cousin, Aditya, acted quickly to launch a fundraising effort on indiegogo.com. Reaching an initial goal of $20,000 quickly, the cousins raised their target to $75,000 and have already reached $70,000.
"Local NGOs often don't have the ability or the connections to raise funds abroad, [but] they will [still] be on the ground when a lot of people who come temporarily to the country will be leaving," Todi told CNN. "We want to make sure that the NGOs that will be here for a long time will get the money." Todi is using lessons he learned in a course on managing global catastrophes at SOM to identify where to channel the money raised. At Yale, he and classmates studied the aftermath of the 2010 Haiti earthquake, learning that organizations focused on children, women and sanitation issues are among the most important to support immediately.
According to CNN, Funds raised via the indiegogo.com campaign could take a week or more to reach Nepal, but when they do Todi has arranged for them to be received by Global Shapers, a network of young leaders he is part of, organized by the World Economic Forum. In the meantime, he's collected some cash donations in person or via bank transfer, which he has used to buy basic food supplies for distribution.
Meanwhile, MBA students in the United States are crowdfunding as well. At UC Berkeley's Haas School of Business, students who traveled to Nepal last year with the school's International Business Development program have launched a fundraising campaign on Tilt, with a goal of raising $10,000.
According to an article on the Haas website, student organizers are working with their international contacts to identify which organizations to fund in order to have the highest impact. "It's a very, very scary situation over there," said Jackie Laird, MBA '15.
Laird was part of Team Beauty for Ashes in Kathmandu last June, which worked with a group of Nepalese women that helps survivors of sex trafficking earn money through handicrafts. She and other students who participated have been in touch with the women they worked with and learned that all are OK, but their families are not. The Nepalese women have been trying to get in touch with relatives and help others in need on foot.
As part of her experience with her team in Nepal last year, Laird saw that hospitals in Nepal were severely underfunded, many having only one bathroom. "Nepal was far worse than I expected, in terms of how destitute it is. If that's the way it was like in good times, I can't imagine what it's like now," she said.
To publicize the crowdfunding campaign, Laird and her team will gather Monday in Haas's main courtyard.