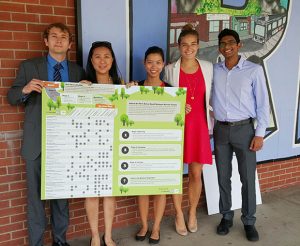 Small local businesses in New Haven will now benefit from free consulting from Yale School of Management (SOM) MBA students thanks to a new partnership between the school and the city. Students from the Outreach Nonprofit Consulting (ONC) club at SOM worked together with the City of New Haven Small Business Service Center to launch the Small Business Academy earlier this month.
Recent SOM alumnus Boris Sigal '14, who directs local procurement and business development for the New Haven Economic Development Corporation, helped spearhead the initiative. "As a recent graduate of SOM, I'm continuously looking for ways to increase collaboration between SOM students and New Haven's vibrant small business community," he said in an article on the Yale SOM website.
Sigal, together with current SOM students Alexandra Hellmuth '16, Sabrina Ling '16, Kevin Eliot '16, Karen Chen '16 and Ashok Poothiyot '17, joined New Haven city officials—including Mayor Toni Harp and U.S. Representative Rosa DeLauro—and members of the community for the Small Business Academy's official opening on May 5th. The academy, located in New Haven's Dixwell neighborhood, will be open three days a week and will serve as a resource for the whole city.
The SOM students have created a business map of the city to better illustrate its small business ecosystem and to serve as a resource guide to small businesses. Based on surveys the students conducted of more than 30 local organizations, the map will help small business owners and entrepreneurs locate technical assistance, funding, financial advice and networking opportunities. The SOM students also will offer free consulting to local businesses, and development professionals will host workshops and classes at the new academy.
"We've got incredible entrepreneurs and small business owners across the city who can provide meaningful opportunities for students to learn, and SOM students bring a diversity of knowledge and skills that provide valuable assistance," Sigal said. "It's a win-win."
Learn more about Yale SOM's Outreach Nonprofit Consulting (ONC) club.