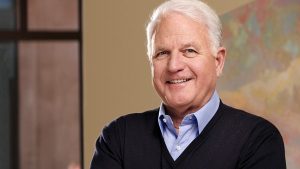 Good news for the entrepreneurial applicant considering the Tepper School of Business at Carnegie Mellon University (CMU): A generous alumni gift will establish a new hub for entrepreneurial activities across the university, the school announced yesterday.
Alumnus James R. Swartz (MSIA'66), founding partner of global venture capital firm Accel Partners, has given $31 million to the school, which will create the Swartz Center for Entrepreneurship.
"As one of the most successful venture capitalists in the world, Jim understands the importance of nurturing innovators and creative thinkers," CMU President Subra Suresh said in a statement. "This gift will bring together cross-university initiatives in ways that will have a far-reaching impact on future generations of young entrepreneurs," he continued.
Swartz's gift includes $13 million in permanent university endowment, which will help support scholarships and fellowships for students, a faculty chair and entrepreneurs-in-residence, as well as an executive director and staff for the new center.
The remaining $18 million includes $10 million Swartz committed last year to the creation of space for entrepreneurship activities in the new building now under construction as part of the David A. Tepper Quadrangle. The additional funds pledge this week also help support infrastructure projects in several other locations across the CMU campus, new campus-wide curriculum development, a new fund to seed entrepreneurial ideas across CMU's schools and community outreach to engage local secondary schools in entrepreneurship initiatives.
"With its strengths in technology, science and the arts, CMU is an ideal location to cultivate the ideas, technologies and ultimately solutions that will make a true difference in the world," Swartz said in a statement. The Palo Alto, California‒based Accel Partners that Swartz helped found has invested in a number of revolutionary technology businesses, including Facebook, Veritas Software, Riverbed, Etsy and Dropbox.
Swartz's gift, made with his wife, Susan, is the fifth largest in the school's history. The largest, $67 million given by David Tepper in November 2014, is funding development of the Tepper Quadrangle on the school's north campus, to serve as a new home for the business school and a hub for technology-enhanced learning initiatives across CMU. Tepper also gave $55 million to his alma mater in 2003, for which the business school.
Learn more about the new Swartz Center for Entrepreneurship at CMU.