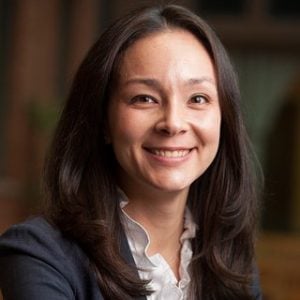 Current MBA students and alumni from leading schools around the country and the globe convened yesterday and today for the 2015 Forté Foundation MBA Women's Leadership Conference, held this year at Georgetown University's McDonough School of Business. Representatives from Forté's sponsor schools are as important a part of the conference as the student attendees. Admissions directors and others from Forté's 48 sponsor schools attend in order to meet students, learn from speakers and network with sponsor companies. They also share their own challenges and triumphs as they relate to enhancing the experience of current and prospective female MBA students.
Judi Byers, executive director of admissions and financial aid at the S.C. Johnson Graduate School of Management at Cornell University, shared her excitement via Twitter about attending this year's conference. Clear Admit caught up with Byers, who joined the Johnson School earlier this spring, to learn a little more about what she most hoped to gain from the event.
Clear Admit: What part of the conference agenda caught your attention first? What are you most excited about?
Judi Byers: I'm most excited to welcome our new students! It's incredibly fulfilling to meet the next group of women to pursue a Cornell MBA, and I'm really pleased to be able to welcome them in person. Forté does a great job of creating the environment for us to meet our high potential female applicants as they are preparing to apply to business school, and this conference is a way for us to support our new students as they get underway with their MBA experience.
In terms of the conference agenda, I'm looking forward to sharing best case practices around student-led diversity initiatives.
CA: As an admissions director, what are you looking most to draw from the conference?
JB: I'm looking forward to hearing about what schools, companies and organizations like Forté are doing proactively to expand the pipeline of women who apply to business schools. We each have the opportunity and responsibility to help with increasing the representation and success of women in the workplace, particularly in positions of leadership. Coming together to discuss ways for us to accomplish this is an important part of building awareness for those who are either planning to apply to business school at some point in the future or who perhaps have not yet considered the MBA or field of business as a potential pathway.
CA: What impact do you think some of what you hear and learn in the next two days could have on how you approach the upcoming admissions season at the Johnson School? The following admissions season?
JB: I'd like to hear more about the concerns and challenges that are top of mind for candidates. I'm also looking forward to hearing about the initiatives that Forté is working on to partner with schools to engage candidates even earlier on in the pipeline.
CA: What role can the Forté conference and events like it play in helping to increase the enrollment of female students at leading MBA programs?
JB: Forté continues to have an important and influential role in helping female students attend the world's top business schools. I think the Forté Conference and events like it provide an excellent venue to further the dialogue about the opportunities, support and resources available to women prior to, during and following an MBA program. These events are one of the ways attention may be given to promote the benefits of pursing an MBA as well as how candidates might leverage the experience to advance their careers.