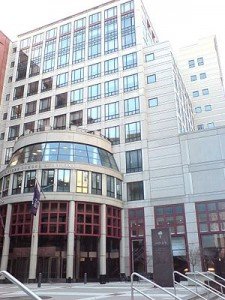 Resolving to better train business leaders to take on the environmental and human challenges facing the world, New York University (NYU) Stern School of Business today announced that it will ring in 2016 by launching a new Center for Sustainability Business. Environmental activist and steward Tensie Whelan, currently the president of the Rainforest Alliance, will join the Stern faculty to establish and lead the new center in January 2016.
Whelan, who earned her bachelor's degree from NYU in 1980, returns to her alma mater with more than 25 years of experience confronting environmental and sustainability issues at the local, national and international level. She helped grow the Rainforest Alliance's budget from $4.5 million to $50 million, recruiting 5,000 companies in more than 60 countries to transform their engagement with sustainability through partnership with the organization.
"What's remarkable about Tensie is not only her courage and conviction to imagine a world in which profit and principle can co-exist, but also her skill and will to transform that vision into action," NYU Stern Dean Peter Henry said in a statement.
At the Rainforest Alliance, Whelan partnered closely with sustainability leaders from multinationals, as well as with global CEOs, key NGO and United Nations leaders and funders. This type of collaboration helped lead an evolution over the past decade from businesses confronting environmental problems and unsustainable development largely due to reputational and supply chain challenges to those same organizations proactively mainstreaming sustainability into their business operations.
Noting that Stern encourages its students to use the tools of business to tackle some of the world's greatest problems, Dean Henry called Whelan "the ideal role model to lead by example on issues that are critical to long-term prosperity and economic growth."
Under Whelan's leadership, the new Center for Sustainable Business will offer sustainability courses at the undergraduate, graduate and executive education level, with an emphasis on real-world experiential learning. To create the center's programming, Whelan will partner with faculty at Stern and across NYU, as well as with leading practitioners from the business, nonprofit and government sectors. The center will also host conferences and other forums convening groups of companies from different sectors and parts of the world with stakeholders and experts to explore solutions for a major environment and development challenges.
Whelan, for her part, expressed excitement about returning to NYU in this new role. "Stern puts a premium on value creation for business as well as society, a philosophy that matches my own," she said in a statement. "Coupled with its prime location in New York, home to the financial sector, Silicon Alley, the UN and NGOs, Stern has an unprecedented opportunity to drive this conversation."
In addition to her leadership of the Rainforest Alliance, Whelan also serves on the advisory boards of Social Accountability International, Sustainable Brands Advisory Board, and Corporate Eco Forum and is the co-chair of the steering committee of the Sustainable Food Lab.
Learn more about Whelan joining NYU Stern to lead the new Center for Sustainable Business.