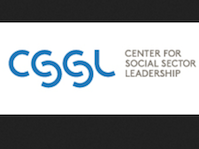 A new name and a new logo help trumpet the expanded mission of a center devoted to advancing social sector leadership at the UC Berkeley Haas School of Business. Previously known as the Center for Nonprofit and Public Leadership, the renamed Center for Social Sector Leadership (CSSL) seeks to help develop a new generation of business leaders focused on fostering social impact across the public, private and nonprofit sectors, the school reports.
"The future requires collaboration between these sectors, and Berkeley-Haas is arguably the best place to define how this next generation of problem solving works," Ben Mangan, executive director of the rechristened Center for Social Sector Leadership, said in a statement. The center focuses on training MBA students to become multi-sector leaders, helping them build skills that will serve them as corporate leaders, public advisors and members of nonprofit and social enterprise boards.
Haas is the first business school to set out to identify the specific skills that make an effective multi-sector leader, according to Faculty Director Nora Silver. The results of a study focused on this topic—conducted by Silver, Haas Adjunct Professor and McKinsey Director Emeritus Paul Jansen and several graduate students—will be released in late 2015. A new course designed to teach the skills revealed by the research will follow.
In addition to the course focused on multi-sector leadership skills, the center will also feature a Social Lean LaunchPad course co-taught by Mangan and Haas Lecturer Jorge Calderon, which will help students learn to employ Lean LaunchPad methods and tools to start a company in the social sector.
In conjunction with its new name and broader mission, the Center for Social Sector Leadership also plans to expand its Berkeley Board Fellows Program, which helps students gain nonprofit board experience, and its Social Sector Solutions applied innovation course, which places students in consulting projects addressing social issues for clients across the nonprofit, public and social enterprise sectors.
And in March 2016, the center will debut a new program on impact investing designed for families and individuals who want to increase their philanthropic impact. This new offering, open to the public, will include a two-day educational event followed by six weeks of online work and continuing events and educational opportunities.
The center also publishes a regularly updated blog devoted to social sector leadership, where students, professors and leaders in the field share their work and insights.
Learn more about the Haas Center for Social Sector Leadership.