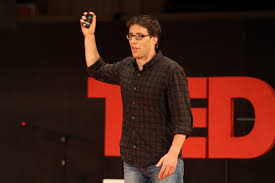 As part of commencement exercises last week, MBA students at Stanford Graduate School of Business (GSB) celebrated an associate professor of marketing for his contributions in teaching and student impact, the school reports.
Jonathan Levav, who joined Stanford in 2011, teaches a management foundation class entitled "Project Launch," in which students learn how to analyze market situations to determine whether a product launch makes sense. He also teaches an elective called "From Launch to Liquidity," which calls on students to examine the challenges start-ups face in achieving liquidity from the perspectives of organizational behavior, marketing and finance. His research—which combines laboratory and field experiments with secondary data analysis—focuses on consumer behavior and behavioral decision theory.
In written nominations, students praised him for his steady encouragement, his passion for doing great things, his interest in the people around him and for challenging them to think critically. "He has inspired depth of thought and created a really fun class that's very challenging in a good way," wrote one.
In accepting the award, Levav said his most important lesson in teaching came from his wife, who helped him be sensitive to potential gender differences in classroom interaction. "The challenge for me was how do I create a classroom context where I can be the sort of aggressive-demanding me but do that in an environment where everyone feels comfortable, including people that have different backgrounds and psychology," he said.
As is often the case with the very best teachers, Levav does much more than simply teach class. He also serves as the faculty director for the Behavioral Lab, an interdisciplinary lab that studies human subjects as part of research related to organizational behavior, behavioral marketing, and political and behavioral economics. He also works closely with students as co-director of all of Stanford's student-led study trips, is faculty director of the Stanford Ignite-Santiago program in innovation and entrepreneurship and is faculty co-director of Stanford Ignite-Bangalore.
Learn more about Stanford's 2015 MBA Distinguished Teaching Award recipient.