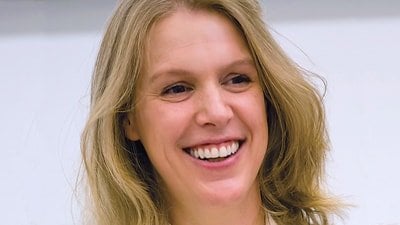 The Tepper School of Business at Carnegie Mellon University (CMU) recently appointed a new head of its MBA program, the school announced last week. Kathryn (Kate) Barraclough comes to Tepper from the Owen Graduate School of Management at Vanderbilt University, where she served as director of the school's Masters in Finance program while also teaching a range of finance courses.
"Kate Barraclough brings an impressive and broad background, ranging from academia to financial services," Tepper School Dean Robert Dammon said in a statement announcing her appointment. "Her achievements as a scholar, researcher and educational leader were fundamental qualities that led to her appointment."
Barraclough holds PhD and bachelor's degrees in economics and commerce from the Australian National University and has taught courses covering derivatives markets, bond markets and financial modeling. Prior to completing her PhD, she was a manager in KPMG's Financial Advisory Services practice based in Canberra, Australia, responsible for overseeing production of financial statements for the Australian Government, preparing budget analysis for government programs and developing financial models for clients.
Her time at Vanderbilt prepared her well for her new role at Tepper. As director of the finance program there, she oversaw daily operations, admissions, curriculum, career management and alumni relations. In her new role at Tepper, Barraclough will provide strategic direction for the program and serve as its ambassador to current and prospective students. In addition to working with the Dean's Office and faculty on curriculum development, she oversees admissions, financial aid, student services and career planning and employment.
"With its dedicated faculty and enthusiastic, high-performing students, I believe that the Tepper School has shown a high level of excellence and powerful potential for continuing its legacy of pioneering ideas and new practices within the management education arena," Barraclough said in a statement, calling it a privilege to step into the new role.
Barraclough succeeds John Mather, who will remain on the Tepper School faculty after serving as executive director of master's degree programs since 2003.