Just as business schools like Tuck and Darden bid adieu to long-time deans, Chicago Booth is saying "Play it again, Sunil." University of Chicago President Robert J. Zimmer and Provost Eric D. Isaacs announced last week that Dean Sunil Kumar has been appointed to a second five-year term at the school's helm.
Zimmer and Issacs praised Kumar's commitment to the success of Booth's faculty, students and alumni in Chicago and around the globe in a message to the Chicago Booth community. "We look forward to working with Sunil in the years ahead to ensure that Booth remains a preeminent destination for business education and scholarship," they wrote.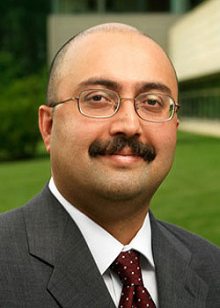 Kumar is credited with enhancing Chicago Booth's global presence, including through the successful 2014 move of the Executive MBA Program Asia to Hong Kong. Under Kumar's leadership, Booth also has expanded its faculty in a range of areas from marketing to operations management.
He has also placed significant emphasis on strengthening alumni ties, including launching a new weekend-long event called "Reconnect," which combines the school's popular annual management conference with class reunions and alumni celebrations. By increasing alumni engagement, Kumar has also elicited strong fundraising support, allowing for the expansion of student scholarships and the Polsky Center for Entrepreneurship and Innovation and for the creation of the Social Enterprise Initiative, the Harry L. Davis Center for Leadership and the Center in Hong Kong.
Through Kumar's first five-year term, Chicago Booth has ranked consistently among the top business schools in the world. The school has topped the Economist's rankings for three years running and was also ranked number one in two of Bloomberg BusinessWeek's last three biennial rankings. As part of its Class of 2017 profile, released earlier this month, the school revealed that the average GMAT score of incoming students has reached an all-time high of 726.
Learn more about Sunil Kumar's reappointment as dean of Chicago Booth.