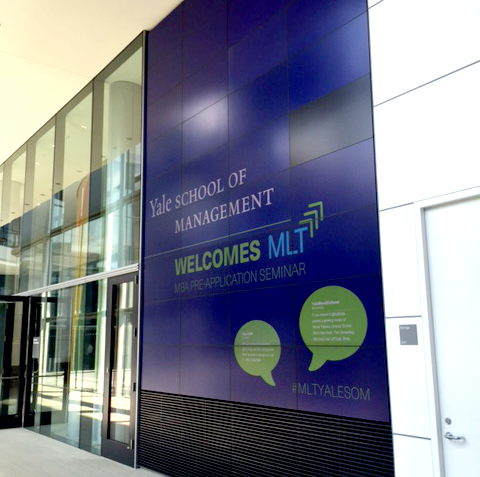 This past weekend, the Yale School of Management (SOM) partnered with nonprofit organization Management Leadership for Tomorrow (MLT) to host more than 280 prospective minority MBA applicants for a three-day event designed to showcase the benefits of a graduate management education. The MBA pre-application seminar featured information on MBA admissions, panels on career development and networking opportunities with current MBA students and alumni.
The event was part of MLT's MBA Prep Fellows Program, one of four primary programs the organization runs to provide resources and guidance to minorities in various stages of their careers. MLT, which celebrated its 10th anniversary this year, is dedicated to growing the pipeline of high-potential minorities in the field of business. So far, more than 2,000 MBA Prep Fellows have gained admission to a top MBA program, MLT reports.
In addition to participating in workshops like the one held this past weekend at Yale, MLT MBA Prep Fellows also receive a personalized playbook for navigating the business school admissions process, one-on-one coaching from MLT coaches and opportunities to interact with MLT's growing network of MBA Prep Fellow alumni.
Participating students, who identify as black, Hispanic/Latino or Native American, gathered on Yale SOM's campus from July 31st through August 2nd, where they had a chance to meet with admissions staff from Yale SOM and several other MBA programs. The weekend's events also included a panel discussion on financing the MBA and mock interview sessions, as well as opportunities to speak with Yale SOM students and alumni about their MBA experiences.
MLT Founder and CEO John Rice, Jr., a Yale College alumnus, was thrilled for the event to take place at Yale SOM. "Great to see 280+ superstar #MBAPrep Rising Leaders at my alma mater," he tweeted out on August 1st, adding that he was honored to welcome participating students alongside Yale SOM Dean Edward Snyder.
According to Tiffany Gooden, director of community and inclusion at Yale SOM, the weekend helps illustrate Yale SOM's commitment to welcoming populations that are underrepresented in business school.  "It's exciting to host this event in Evans Hall and to work with MLT on an issue that is of great importance to both organizations," she said in an article on the Yale SOM website.
Yale SOM Professor of Organizational Behavior Amy Wrzesniewski delivered the keynote address, and representatives from leading organizations—including Credit Suisse, ADP, Deloitte and the Annie E. Casey Foundation—participated in career development panels. Yale SOM Admissions Director Bruce Delmonico closed out the weekend's events.
MLT MBA Prep Fellows are selected based on the strength of their work experience, undergraduate performance and leadership potential. "They're an outstanding group with great promise," Gooden said.
Learn more about the MLT MBA Prep Program.