The Haas School of Business at the University of California at Berkeley, in partnership with UK-based charity Stars Foundation, has launched an innovative new online education platform that will provide free courses in leadership and management to hundreds of thousands of people and organizations working toward social good, the school announced earlier this month.
Coined Philanthropy University, the first-of-its-kind learning platform will feature a range of dynamic online classes taught by renowned professors and social impact practitioners from around the world. It is the brainchild of Amr Al-Dabbagh, a Saudi businessman and founding chairman of the Stars Foundation, which since 2001 has been investing in organizations working to address the issues faced by disadvantaged children and their communities.
"Imagine a workforce of social change professionals who are primed, positioned and skilled to impact the lives of millions of people and effectively change the world with their work. This is the vision of Philanthropy University," Al-Dabbagh said in a statement. Al-Dabbagh is also the founder of Philanthropy U, a U.S.-based nonprofit that is sponsoring Philanthropy University.
"This is his vision, his idea, and it reflects his desire—his understanding of how you can pull certain levers to enact really meaningful change in the world," says Ben Mangan, executive director of the Center for Social Sector Leadership and lecturer at Haas. The partnership with Haas came about somewhat serendipitously thanks to work Al-Dabbagh and Laura Tyson, director of the Haas Institute for Business & Social Impact, did together at the London Business School. "Laura learned about Philanthropy U and immediately saw possibilities in how well aligned the idea was with the defining principles of Haas," Mangan says.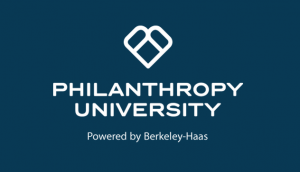 As part of its first phase, Philanthropy University will feature seven courses on topics ranging from fundraising and strategic planning to scaling for impact. Instructors include Jessica Jackley, social entrepreneur and co-founder of kiva.org; Paul Brest, dean emeritus of Stanford Law School, and Erik Simanis, who heads Cornell University's Emerging and Frontier Markets Initiative. Already, more than 11,000 participants have registered to take part in the initial three courses, which begin on September 29th.
Philanthropy University's courses are non-degree, diploma or credit granting, but participants who complete any course will receive a Statement of Accomplishment, and those who complete all seven courses will be awarded a Certificate of Completion in Social Sector Leadership from Haas.
DEMOCRATIZING ACCESS TO EXCELLENCE FOR THE SOCIAL SECTOR
"Nothing like this has ever been done to democratize access to excellence for the social sector," Mangan says. "The world of business schools and high-caliber nonprofits have done a great job of hand picking a small number of very talented social entrepreneurs, but never before has anyone provided a platform with a high degree of excellence that will allow anyone with access to the internet to have access to those tools."
Haas will play an ongoing role with Philanthropy University, helping to shape the curricula and form a network of organizations that will use the platform to increase their impact. Haas faculty will be joined by faculty from other top universities worldwide in teaching the courses, and the school's Global Social Venture Competition will also be integrated as part of the experience. The result will be an open innovation platform that helps build a global online community where people share different forms of intellectual property and learn from each other, not unlike open source code, says Mangan. "It's a big deal—this is really ground breaking," he stresses.
The courses themselves far outdistance traditional nonprofit webinars currently available to those working in the social impact field. Each course will last between five and eight weeks and will focus on team-based experiential learning.
INNOVATIVE TECHNOLOGY FOSTERS ENGAGEMENT, SELF-ACCOUNTABILITY
The technology underpinning the initiative was developed by NovoEd, a San Francisco‒based education technology firm. "It was important to have collaboration and engagement built into the experience," says Jennifer Hu, who led the Philanthropy University Launch Team for NovoEd. "The kind of skills and problems Philanthropy University was developed to address require cooperation," she continues. "You don't acquire them in the same way you acquire coding skills—and we have built-in technology and mechanisms that enable this kind of collaboration online."
For example, says Hu, the team work space is integrated with scheduling tools and Google hangouts to enable participants from around the globe to interact with one another. Some of the courses will involve team assignments, and the technology makes it possible for teams to upload documents, "like" and comment on each other's work, schedule meetings and collaborate in real time. "You can see discussion topics trending at the moment, see who else is online and view a gallery of multimedia assignments other students have uploaded," Hu says.
The online platform also enables participants to create a "learner profile," similar to a LinkedIn profile,  which includes information about an individual's background and experiences and allows for endorsements from other learners or instructors, says Hu. "It reinforces and incentivizes people to keep up their reputations, because your learner profile can ultimately help people find you and recruit you for a team," she says.
NovoEd was founded not only on the technological but also the psychological principles of social learning, Hu says. By implementing self-accountability, NovoEd has been able to improve the rate of completion for its online classes, which has been a source of frequent criticism of massive open online courses (MOOCs). "What we are doing for Philanthropy University goes far above and beyond what might be traditionally called a MOOC or a webinar because we are trying to encourage an engaging, academically rigorous and comprehensive learning opportunity where participants are motivated to remain involved," says Hu.
A THREAT TO BUSINESS SCHOOLS' SOCIAL IMPACT PROGRAMS?
So, does Philanthropy University pose a threat to business schools that offer social impact programs? "I don't think it will," says Mangan. "People who are intent on going to business school and studying social impact would do this in addition," he says. Hu, who holds an MBA from the University of Michigan's Ross School, agrees. "For someone who decides to do an MBA, this is an amazing supplement," she says, akin to attending a national conference where all of the leaders in social impact are gathered in one place.
The main targets of the program are not MBA students but rather current or aspiring managers and leaders in the social impact space—at nonprofits, businesses with a social mission, foundations and non-governmental organizations. "This is for people who are working and striving for social impact and are hungry for tools to make them better but lack resources for career development," says Mangan.
Mangan also recognizes at least two additional target participant profiles. The first is concerned citizens around the world who are passionate about solving problems facing their community. "This platform gives structure and tools to those people as well and allows them to join the community of online learners," he says.
In time, Mangan also hopes to work with companies who are interested in giving their employees the tools to have social impact. "Philanthropy University will be a tremendous platform for HR departments to help employees to volunteer and add even more impact to their volunteerism," he says.
Of course, Philanthropy University also offers a resource for individuals not currently in the social impact sector who are looking to transition. For them, the benefits are clear, Hu points out: "There aren't many programs of this caliber that are entirely online and that you can complete at your leisure for free in the sequence that you want."
Market response will dictate how Philanthropy University grows its curriculum over time, says Mangan. Personally, he would like to see the program go deeper in terms of competitive strategy and the use of lean principles for social impact. "I believe there is room for a 'Lean Startup for Social Impact' course in the future," he says. Eventually, he expects the curriculum to include both a set of core courses and a range of additional electives.
The end goal for Philanthropy University? The organization's stated "100×20 vision" is "to impact the lives of 100 million people by 2020 by training hundreds of thousands of learners working for social good, elevating their cause and furthering their reach."