With so many factors to consider when approaching business school, some candidates may not be fully prepared to address the question of work experience. Sure, GMAT scores and GPAs are key, but what's so important about a résumé? Applying to business school isn't the same as applying for a job. Or is it?
According to Katelyn Stephenson, assistant dean for admissions at Georgetown University's McDonough School of Business, the two are more similar than we might think. That's because admission committees often assess both the quantity and quality of an applicant's work experience in some of the same ways that a post-MBA employer would.
"Along with their applications and résumés, our admissions committee will review candidates' professional goals as articulated through their written essays and personal interview," explains Stephenson. "We're trying to assess how focused they are professionally, what resources they may need for successful job placement post-MBA and what insight they can add to the classroom discussions based on their experiences. Our duty is partly about crafting a diverse and competitive MBA class, but it's also about setting students up for success and helping them get to where they want to go professionally."
"Employers want to see focused, motivated, ambitious people," she says. "They are looking for evidence of leadership potential, and work experience is one indication of that. Even if candidates have the same academic credentials—their professional background is one way to really differentiate themselves. Additionally, depending on the industry, some employers also look to recruit candidates that already had four to six years of work experience prior to starting business school."
An MBA seeker also may wonder how his or her unique undergraduate and professional background factors into the admissions process, especially if they don't happen to be in a business-related field. Stephenson assures prospective students that Georgetown McDonough, like many highly selective business schools, looks for diverse candidates with a balance of clearly defined goals and the ability to achieve them.
"You don't have to be from a business background to pursue an MBA," says Stephenson. "We've seen a rise in 'non-traditional' students [in the past several years], and they have a lot of value to add in the classroom. Many people tell compelling stories about how their liberal arts or social science degree, as well as the jobs they have held since college, have contributed to their interest in business."
Georgetown McDonough's Class of 2017 profile shows that while business and economics undergraduates comprise 29 and 16 percent of full-time MBA students respectively, humanities, social science, math and other undergrad degree holders make up a solid 33 percent.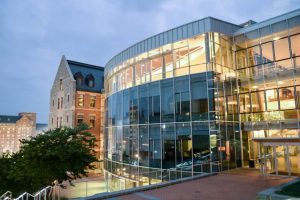 What's more, a look at the industries in which the Class of 2017 held jobs prior to attending business school reveals that a large population worked in fields as diverse as non-profits, retail, media, construction and healthcare—compared with 25 percent from financial services.
"Those with non-traditional backgrounds are an important part of an MBA class," she says. Indeed, precisely because they bring different professional experiences, they are often able to make valuable contributions to class discussion, she adds.
As for the application process, Stephenson says the admissions committee at Georgetown McDonough evaluates candidates holistically. They review all credentials in order to get a complete picture of each applicant.
"We're trying to assess 'fit' from different perspectives. It's about looking at the whole picture that the candidate is presenting to answer the question, 'Is this person going to be academically, professionally and personally successful in our program?"
When it comes to figures, the latest Georgetown McDonough post-undergraduate, full-time work-experience average is just under five years, though the range stretches from 2.74 to 7.67 years' experience.
"We do suggest that applicants to the full-time program have a minimum of two years of post-undergraduate work experience, though the minimum for the evening program tends to skew slightly higher," she says. "Because students equally learn as much from one another as from their professors, having more work experience enables them to contribute to richer classroom discussions. Perhaps equally important is the quality of the work experience. Students with more substantive professional backgrounds seem to be informed in a different way about what they like and don't like, and it really influences their motivation for pursuing an MBA and the overall direction of their careers."
Stephenson's team works with prospective MBA students during their decision-making process. She often reminds them that whether they are enhancing or switching careers, it's vital to "connect the dots between what you have already done and what you are hoping to do professionally." A good personal story—whether articulated in an interview or essay—can be as impactful as high test scores or impressive recommendations.
"Every aspect of the application and admissions process is an opportunity, and everyone has a story to tell," says Stephenson. "Candidates should be savvy and strategic about how they tell their story. At the end of the day, we really want to know who they are and why they think that Georgetown McDonough is the best fit for them."
Georgetown McDonough is an advertiser on the Clear Admit site. This piece appears as part of the school's sponsorship package. For more information about sponsorship opportunities with Clear Admit, contact us here.