As MBA students arrived on campus at Cambridge University's Judge School of Business (CJBS) last month, a new academic director stood ready to greet them. Jane Davies, an expert in operations management and process excellence, was appointed in August to serve as the first-ever female director of the MBA program at Judge. Her appointment nicely coincides with the school's launch of a Women's Leadership Initiative (WLI) earlier in the year, new scholarships for females in partnership with the 30% Club, sponsorship of a new Women Entrepreneur of the Year award and a continued focus on gender-diversity related research by faculty.
While new to the role of academic director, Davies is far from new to Judge. Since 2009, she has taught operations management—including the school's core course on operations—and she has twice won the CJBS Teaching Award as the highest-rated MBA lecturer by students, in both 2013 and 2015.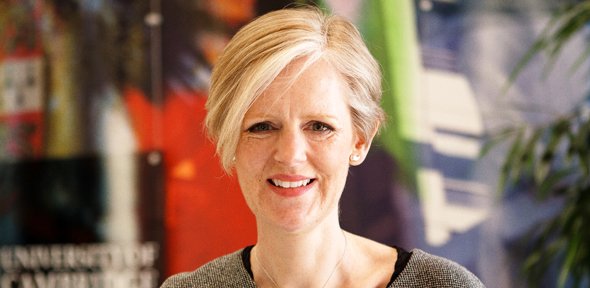 Speaking to Clear Admit just before students were scheduled to arrive on campus last month, Davies modestly downplayed how much her students seem to love her. "I don't know about being loved," she says with a laugh, "but I do take an interest in the students." This means getting to know them on a first-name basis and understanding their backgrounds and inspirations, even across large core lecture classes.
"My new role will give me more of an opportunity to get to know them in greater depth and across the full academic year," she says with clear excitement. As academic director, she will also be focused on ensuring the continuing high quality of the entire MBA program.
"I will be working to give students the best possible program and experience they can have, making sure we are academically rigorous, making sure the program is relevant and developing the program further on the practical side to give students critical real-world experience," she says. She doesn't worry about missing the role of lecturer, though, since she'll also continue to teach both her core classes and electives.
"I KNOW WHAT IT'S LIKE TO SWITCH CAREERS"
Asked about any specific insights and priorities she brings as the first female director, Davies says she views her contributions as regardless of gender. "I previously worked in the consulting sector, I undertook an MBA myself, I know what it's like to switch careers," she says. Some might even call her a career pivot expert. She began as a management consultant, returned to earn her MBA, worked in finance at Fidelity and then obtained her doctorate and transitioned once again to academia.
This experience positions her well to help meet the needs of Judge MBAs, 89 percent of whom switched jobs or industry or countries last year, and 30 percent of whom switched all three, she says.
But it's her operations expertise that perhaps will serve her most in this new role, she says. "I am used to getting stuff done, I focus on delivery and outcomes, I am really concentrated on the quality of service we deliver and I value and act on feedback." Her operations background also means she is always looking for continuing improvement. "We are always looking for how we can expand what we offer students."
ATTUNED TO INDUSTRY
She is also keenly attuned to industry and a firm believer in the importance of practical real-world projects to the MBA. "We always want to offer opportunities and encourage a diverse class—that is one of the things that is most attractive about the Cambridge MBA program, the diversity of initiatives that draw together the expertise and resources we have within the business school," she says.
The school has been developing diverse career pathways for its students by delivering a mix of technical and practical skills both in the classroom and beyond. "There are opportunities for students to apply classroom learning on live real business issues from the very start," she says. In the first term, students take a course on management practice, where they learn about team behaviors and get to experience the pressures and challenges of working on a team. This is followed by a global consulting project in which students apply their learning to a real issue for an international organization.
Through the MBA program's eight concentration pathways—which include traditional tracks such as finance and strategy and consulting, as well as others like entrepreneurship, social innovation and culture, and arts and media management—students can also choose an area or industry that they are particularly interested in and work on projects supported by coaches. "At each point we are trying to link what they learn in the classroom and apply it to work in the real world."
Unlike two-year MBA programs in which students spend the summer in an internship putting things they've learned in the classroom to work, Judge's one-year program ensures that its students are not waiting until the end of the first year to be able to apply things. "At every turn they get an opportunity to put into practice the technical and theoretical experience they have been developing," she says.
"THEY KNEW IT WOULD BE GOOD, BUT THEY DIDN'T ANTICIPATE HOW GOOD"
Though students coming into Judge are aware of the practical real-world projects, Davies finds that many are surprised by how much of an impact they have on their learning and personal experience. "I hear so many students say that the global consulting experience was the highlight of their MBA—they knew it would be good, but they didn't anticipate how good," she says.
Alumni also often say it is the one area that has contributed most to their post-MBA success. "They comment about how it consolidates their technical management learning and their team-working skills, all while providing access to an outside organization that is internationally based where they are working with leaders of industry."
PASSIONATE ABOUT JUDGE'S COMMITMENT TO GENDER DIVERSITY
For all her operations and industry focus, she is also keenly passionate about Judge's commitment to supporting gender diversity in business and enhancing the leadership potential of women, which makes now an especially exciting time to be at the helm. "We have an incredible platform to bring together research on gender diversity, which is a major focus of the school in general," she says.
There's also this year's launch of the school-wide Women's Leadership Initiative, a student-generated drive to enable women's leadership and empowerment in the business world globally, which hosted its inaugural conference in June. "The initiative was instigated by the students, but it encompasses faculty, executives within the school and alumni and it reaches across other women's networks across the United Kingdom and internationally," Davies says.
Beyond this, Judge is expanding scholarship opportunities for female MBA students with support from the 30% Club, an organization established in the United Kingdom in 2010 aimed at achieving 30 percent women on FTSE 100 boards by the end of 2015. Judge will also sponsor the new Women Entrepreneur of the Year Award by Business Weekly. "Pulling all of this together means we have a foundation of activity across the entire business school," she says. "And it is quite organic, so it will be shaped by incoming students and faculty to address topics as they arise."
JUDGE'S GREATEST ADVANTAGES CAN ALSO POSE A CHALLENGE
Davies points to the fact that the Judge MBA is a one-year program as one of its greatest advantages. "It is transformational," she says. "The students come out with a different outlook, it transforms their ambitions, it enhances their contributions to future employers. There is an extremely high return on investment."
Where the business school sits within Cambridge is also an enormous asset, she says. "It's not only the university but also the broader connections to the Cambridge community, the high-tech 'Silicon Fen' cluster, connections with the hospitals, small and large industries within the vicinity—it is a dynamic environment, an exceptional place that exposes students to a wealth of ideas within the business school, the university and the community."
But precisely because it is such an intense one-year program and Cambridge has so much to offer,  it can be a challenge to know how to make sure the school is giving students exposure and access to all that is going on within the Cambridge environment while still keeping a focus on the curriculum, Davies says. "I am always thinking about how to balance the intensity and all that Cambridge has to offer while making sure we give the students the best possible experience whilst they are here."
TO BUILD ON AN ALREADY STRONG PLATFORM
"I am inheriting a really strong program and a great team of staff and students, and I want to build on this," says Davies. As academic director she will continue to look at ways to make sure the Cambridge Judge MBA transforms its students, giving them both the technical management skills through the curriculum and the interpersonal skills they build through interactions with teammates and classmates. "We see how this transforms their outlook and contributes to their future," she says.
"It's also an incredibly exciting opportunity for me on a personal level," she says. "This is a new challenge, having come from a career where I was a practitioner, a management consultant, did an MBA, worked in finance, became an academic—it's very interesting to have a new challenge and be able to take forward a program like this one."