At the most basic level, the question most MBA candidates inevitably begin with is, "Why should I pursue an MBA?" A seemingly simple question, it is possibly the most significant one to consider on the path to a graduate degree. But much of the answer depends on weighing your individual pros versus cons—and addressing common myths about an MBA.
One of the first misconceptions on the road to an MBA is about qualifications. Many are convinced that only those with business-related undergraduate degrees can get into a good school. Others feel that their test scores, work experience or prior coursework would limit their appeal to admissions departments. In truth, any prospective student can be qualified with the right commitment and preparation.
"There is no such thing as an 'ideal' MBA candidate," says full-time MBA student Jerrod Dolenz. "Students represent a variety of professional backgrounds, personalities, countries and career ambitions. Learning in that environment is part of the value of the degree."
Dolenz is on track to graduate in 2016 from Georgetown University's McDonough School of Business. Prior to business school, his professional experience spanned working as a paralegal and serving in the Peace Corps in Africa. Armed with an English degree, Dolenz considered other graduate programs like law, international affairs and public administration. Ultimately, he decided to pursue an MBA because he found it more solution-oriented than other degrees, arming him with versatile skills for the future.
"The greatest benefit of an MBA is the ability to hit the reset button on your career. It created an incredible number of opportunities," he explains. "And I was drawn to McDonough for its emphasis on collaborative problem solving, inclusive culture and a rigorous core curriculum."
Banking and Consulting Aren't the Only Paths
Similarly, full-time MBA candidate Coral Taylor successfully debunked a few myths on her way to enrolling at McDonough. While many align business school with a career on Wall Street or in consulting, Taylor intends to use her MBA to make positive social change in the world.
"I decided to get my MBA because I share a fundamental belief that corporate America can and should be the greatest catalyst for change in society," says Taylor. "Before my MBA, I knew non-profits could make a huge impact, but their challenges could impede their ability to serve. I wanted to learn how the public and private sectors can create and sustain models of social change. I also wanted to make a switch into the corporate sector and chose an MBA to accomplish both of those goals."
Taylor spent her summer interning at Starbucks, where she "learned that they didn't just throw money at social change—it's embedded in their corporate strategy." She will begin her post-MBA career in the company's Seattle headquarters as part of the Category Brand Management team. Other students are using their MBAs to pursue careers in non-profits, non-governmental organizations, the federal or state government and international development.
Versatility is a top-selling point for an MBA, thanks in part to a more diverse and well-rounded student body. Admissions committees like McDonough's often take a holistic approach to reviewing applications, with an eye toward creating a widely varied class. This has two benefits. First, it allows applicants to prove themselves according to their academic ability, personal achievements and professional experiences. Second, it results in an array of both full-time and part-time students from different backgrounds.
On that note, Dolenz admits he has "become much more effective working with diverse teams and more self-aware of qualities that lead to effective leadership."
An MBA's Advantages Extend Beyond the Classroom
In addition to the coursework, business school also introduces networking and co-curricular and other academic and professional opportunities that deliver a direct return on investment. In fact, for Dolenz the McDonough MBA Career Center was key to his future position with Deloitte's Human Capital practice.
"The MBA Career Center was instrumental in connecting me to and preparing me for my offer," he says. "The center works closely with Deloitte in hosting recruiting events, and I've used its career coaches for advice, résumé reviews and interview practice."
What's more, an MBA delivers not just academic and professional knowledge, but the chance to improve on a personal level too. The transformation one goes through to obtain the degree helps to build confidence, executive presence and maturity in a way that few other experiences can offer.
"You always should be out of your comfort zone," says Taylor. "Being able to rise to a challenge or face something or someone intimidating is what makes us learn and become stronger. Business school does that. It's the place to try and fail—and to get better every time."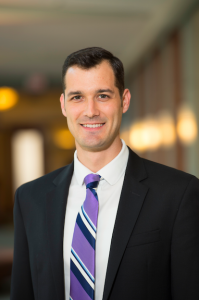 Jerrod Dolenz FT'16
Hometown: Iola, KS
Pre-MBA Career: IFC, Levy Konigsberg LLP, Peace Corps
Internship: International Executive Service Corps
Student Involvement (select): Student Government Association vice president of community, MBA Volunteers president, Net Impact member, GALA member, Graduate Student Consulting Group member
Why an MBA? "I researched many degree programs (Law, MPA, International Affairs) before choosing an MBA and ultimately decided that I wanted a degree that would position me to solve problems for clients in the private and the public sectors. I have used my time in business school to strengthen my quantitative skills and hone my analytical approach to problem solving through strategy courses. I have also developed my leadership skills as a vice president of the Student Government Association and in club leadership roles."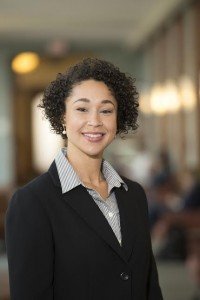 Coral Taylor FT'16
Hometown: Prunedale, CA
Pre-MBA Career: KIPP Foundation
Internship: Starbucks, Category Brand Management
Student Involvement (select): Consortium member and student liaison, global champion in 2015 Venture Capital Investment Competition, vice president of Career for Graduate Marketing Association, InSITE Fellow, Startup Hoyas Pitch Competition participant and 2nd place winner, April 2015; Net Impact member, Entrepreneurship Club member, Black MBA Club member
Why an MBA? "Before my MBA, I knew non-profits could make a huge impact, but I also knew that they faced significant challenges that impeded their ability to scale and reach desired results. I wanted to learn about more sustainable ways to drive social and economic change through a for-profit model, and I wanted to make a switch into the corporate sector. I chose an MBA to accomplish both of those goals. For my internship, I sought out various "big businesses" that had strong brands, high financial return for stockholders and, most importantly, the belief that corporate America has a responsibility to "do good." I interned at Starbucks, where I learned first-hand that instead of simply throwing money at social issues, they had incorporated social impact into their business model."
For more on the versatility of the MBA, check out Georgetown McDonough's Why an MBA webinar.
Georgetown McDonough is an advertiser on the Clear Admit site. This piece appears as part of the school's sponsorship package. For more information about sponsorship opportunities with Clear Admit, contact us here.