This post has been republished in its entirety from its original source, metromba.com.
On Monday, January 25th, the UCLA Anderson School of Management made a great stride in entrepreneurship education through its launch of the Anderson Venture Accelerator Program.
The program will provide a venue for collaboration between students and professionals, and it will serve as an incubator for innovation not only at the university, but in the global marketplace as well.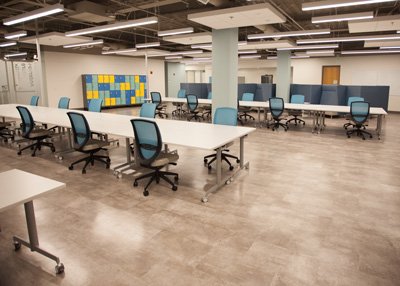 The Venture Accelerator Program will bring students, faculty, researchers and members of the business community together in a co-working environment, located within the school's Rosenfeld Library. It provides room for 45 people and features state-of-the-art audio/visual capability and conference areas, training rooms and space for informal gathering. The location of the program within the library is symbolic of the changing face of the facility, reflecting the fact that research is propelled ever more by technology and collaboration.
"As the usage patterns of our library have changed, the librarians have worked with us to design an active learning facility that utilizes the best of their capabilities, while physically demonstrating the importance of entrepreneurship and innovation to Anderson and the campus," Elaine Hagan, executive director of the Harold and Pauline Price Center for Entrepreneurship & Innovation, said in a statement.
UCLA Anderson Dean Judy Olian spoke at an opening event for the new space. "UCLA Anderson is delighted to see the realization of this exciting living lab to further enhance the UCLA entrepreneurial ecosystem," she said. "The UCLA Anderson Venture Accelerator offers students and researchers an environment that triggers innovation and breakthrough ventures. It brings together students and faculty from across UCLA, including the health and computer sciences, engineering and the humanities to develop new ventures."
This multidisciplinary approach will enable students to receive mentorship across various fields of study, fostering an environment of "outside the box" learning and collaboration.
A gala event celebrating the accelerator's opening featured food and drink provided by Anderson alumni entrepreneurs, including Wood Ranch BBQ & Grill, owned by Eric Anders (MBA '91); Golden Road Brewing (recently purchased by Anheuser-Busch), founded by Tony Yanow, Amy Yanow (MBA '12) and Meg Gill; Sugarfina, owned by Rosie O'Neill (BA '00, MBA '05); and Veggie Grill, founded by T.K. Pillan (MBA '96).
Photos courtesy of UCLA Anderson School of Management.