Yale SOM Interview Questions & Report: Round 2 / Adcom / Off-campus Hub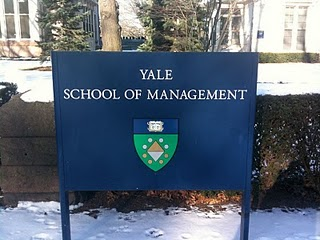 The following Yale MBA interview questions and report were submitted to Clear Admit by a Round 2 applicant. Good luck to them!
It was a blind interview with adcom.
The adcom stuck to the question list she prepared. It was conducted for approximately 20 minutes and no unusual questions.
Followings are the questions I got:
Why Yale?
Why MBA?
What is your goal?
What do you expect in Yale?
Any questions?
Hope it helps!
---
Preparing for an upcoming Yale MBA interview? Click here to get the Clear Admit Yale SOM Interview Guide.
After your interview, be sure to add your first-hand interview report to the Clear Admit Interview Archive.
Preparing for your interview?
Give Veritas Prep a call at +1-310-295-2098 or click to
Posted in: Interview Questions & Reports
Schools: Yale SOM
Related
Sign Up For Our Newsletter