Fridays from the Frontline: An HBS Alum's Answer to Should Entrepreneurs Get an MBA?

Today's post comes to us from recent Harvard Business School (HBS) alumnus Jon Staff (MBA '16), who is now CEO and founder of a company that offers rural escapes to stressed-out city dwellers. Called Getaway, his startup designs tiny houses and places them in picturesque rural locations, where they can be rented out starting at $99 night.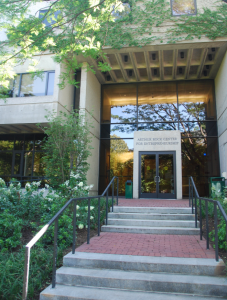 In the following piece, Staff takes on the likes of Peter Thiel and Elon Musk, who have gone on record as suggesting that entrepreneurs should not seek MBAs. Even though that sentiment gave him pause as he decided whether to apply to and ultimately attend HBS, Staff's experience there only reinforced that he made the right decision. That experience included serving as co-president of the HBS Entrepreneurship Club. It also included taking advantage of the many resources HBS offers to entrepreneurs through its Rock Center for Entrepreneurship, including the Rock Summer Fellows Program, the Rock Accelerator and the iLab Venture Incubation Program. As the Rock Center prepares to host its 20th annual New Venture Competition (NVC) next week—Getaway was an NVC runner-up last year—it seems like the perfect time to share Staff's insights with Clear Admit's audience. Our thanks to HBS for granting permission for us to do so.
The following post has been republished in its entirety from its original source, "MBA Voices," the HBS MBA blog.
Should Entrepreneurs Get an MBA?
by Jon Staff, MBA '16
In his encouraging entrepreneurs not to go to business school, PayPal co-founder and Gawker toppler Peter Thiel faults MBA programs for producing "extremely herd-like thinking." He's not alone—Elon Musk also rails against business school and being anti-MBA has become as popular as avocado toast from SoMa to Sand Hill Road. This weighed on me as I applied to and decided to matriculate at HBS.
It is odd when you think about it: What better example could there be of herd-like thinking than suggesting an entire population of diverse folks, linked only by their interest in creating something from nothing, should steer clear of a certain graduate degree. So should entrepreneurs consider getting an MBA? As is perhaps the first lesson of business school (and, maybe, life) the answer must be: it depends. For me, an MBA from HBS has already been a boon to my entrepreneurial career. Here's why:
Classmates: The idea for my startup Getaway formed just before arriving on HBS' campus. The 90 people in my section and the 900 in my class have left their own lasting mark on the company. Section-mates generously paid to be our first customers and were patient with the bumps resulting from a minimum viable product.
The Entrepreneurship Club members provided a knowing empathy in tough spots and solid advice that propelled us forward. It hasn't ended with graduation: A close friend from HBS just helped revamp our financial model as we begin our Series A fundraise; another introduced me to a great VC firm where she just started working. The addition of lots of kind and helpful people into an entrepreneur's life should not be discounted.
Classroom: The knock on business school education often includes the argument that you don't need to learn the lessons that b-school teaches. I'm happy to concede some territory here: I'm not convinced it's essential to running the company that I can derive WACC or read Balance of Payments statements. This argument does, though, undervalue the soft stuff that is taught and I found valuable in business school: how to give and receive feedback, how to remain ethical in tough situations, how to focus on your career and life over the long term. It is an incredible gift to be able to carve out some time over two years to think actively about such questions.
Connections: I bristle when people talk about HBS or business school being "about the network." To me, the term implies spending nights in poorly lit hotel conference rooms, making inane conversation, and angling to convert current strangers into future benefactors. It would be equally cynical though to deny that you can meet people who can provide tremendous value personally and professionally.
For me, that meant when I wanted to meet people who knew something about running hotels I was connected to the former CEO of a major global hotel chain. When I needed some quick legal advice, the Harvard Innovation Lab had free lawyers on call. When I wanted to talk to someone who had gone through this startup thing before, the Rock Center for Entrepreneurship put me in touch with entrepreneurs at every stage of growing a company: from seed ventures to those that have grown to $1 billion+ in valuation. That's not to mention the several mentors and advisors, formal and informal, I connected with and the dozens of one-on-one meetings with HBS professors that generated insights that informed the future of the company.
Cash: The joke in Silicon Valley is that in valuing a startup, you should subtract $250k for every employee that holds an MBA. The implication, of course, is that an MBA does not help in raising money. I've found the opposite: of the $1.2m Getaway raised in seed capital while I was at HBS, $725k (60 percent) was directly a result of being at HBS—the result of meetings I would not have had if I had not been an MBA student at Harvard.
All of this is not to take the opposite position of Peter Thiel and Elon Musk and argue that business school is for everyone or every entrepreneur—I'm sure it is not—but instead to say that each of us are on our own path in life and shouldn't make our choices based on one-size-fits all BuzzFeed or Bloomberg headlines.