Johnson Graduate School of Management at Cornell University released its class profile for the incoming Class of 2019 last week, revealing that despite some shifts here and there, overall the incoming class does not differ hugely from the class that preceded it.
A total of 277 new two-year MBA students were accepted into the Cornell Johnson MBA Class of 2019, a decrease of just two students from last year's figure of 279.

In some regards, the makeup of the class also stayed fairly consistent. For both the Class of 2019 and the Class of 2018, 38 countries were represented in the student body, though international students make up 34 percent of this year's incoming class, a percentage point increase over the year before. Former members of the military joining this year's class make up 11 percent of the class, also identical to the year before.
In other measures of diversity, though, Johnson backslid slightly. The percentage of incoming female students dipped from 31 percent last year to 27 percent this year. Under-represented minorities also decreased, from 15 to 12 percent year over year.
In terms of academics, average GMAT scores remained steady at 700, and average GPA was very close to last year's as well, drifting down just slightly from 3.39 to 3.36. The average age of incoming students, 38, and the average years of work experience, five, were identical to the year before.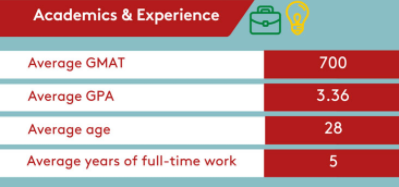 Warm Ithaca Welcome for Johnson Class of 2019
Incoming students in the Johnson Class of 2019 started out the year with a bang on the Ithaca campus, spending a week getting to know one another through welcoming activities, team building challenges, and more.
A welcome event on July 30th hosted by Dean Mark Nelson kicked things off. Then, the MBA students dove deep into their curriculum, discussing such topics as community and classroom expectations. Next, the Cornell MBAs participated in outdoor activities—including a winery visit and hiking trails near campus—as well as an annual team-building retreat called the Johnson Outdoor Experience.
Finally, the first week ended with a career-focused alumni panel hosted by the Career Management Center. More than 25 alumni from firms such as American Express, McKinsey & Co., Samsung, Liberty Mutual, and Intel participated.
"The visits from the Johnson alumni really solidified why I want to go into marketing. It was great to hear about their lives and careers, and it got me really excited for recruiting season." — Gina Tucker, Two-Year MBA '19
For more information about the Cornell Johnson Graduate School of Management Class of 2019, MBA program details, scholarships, and more visit the school website.