For his contributions to behavioral economics, the Royal Swedish Academy of Sciences honored Richard H. Thaler with the Sveriges Riksbank Prize in Economic Sciences in Memory of Alfred Nobel 2017. Thaler is a professor of behavioral science and economics at the University of Chicago Booth School of Business.
Thaler's recognition comes as a result of his research into behavioral economics, a field that bridges economics and psychology. Specifically, his research considers the possibility that some individuals in an economy act human, which is unique from the standard economic assumption that everyone in an economy is rational and selfish. At Chicago Booth, Thaler teaches two courses: "Choice Architecture in Practice" and "Behavioral Economics."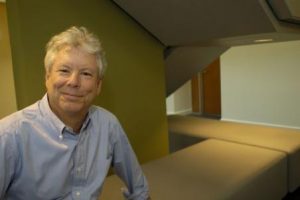 Beyond his research and teaching, a recent press release from the university revealed that Thaler was named to Bloomberg Markets 50 Most Influential People in 2015, and, in that same year, he was appointed president of the American Economic Association. He is also the author of two bestselling books: Misbehaving: The Making of Behavioral Economics (2015) and Nudge: Improving Decisions about Health, Wealth, and Happiness (2008).
Misbehaving was named one of the six most influential business books of 2015 by the Financial Times and delved into how behavioral economic analysis changes the way people think about everything. Nudge was ranked Best Book of the Year by both the Financial Times and the Economist. It explored how behavioral economics can be used to tackle many of society's problems and how it can influence public policy. Its public policy influence was most greatly felt when, in 2010, the United Kingdom establish a Behavioral Insight Team, nicknamed the "Nudge Unit," to create policies to help British citizens make better decisions.
Thaler's recognition places him on a prestigious list with 89 other scholars associated with the University of Chicago who have also received Nobel Prizes. It also makes him one among 28 who have received the Nobel Memorial Prize in Economics at the university. Currently, in addition to Thaler, there are five University of Chicago faculty members who are Nobel Laureates: Eugene Fama (2013), Lars Hansen (2013), Roger Myerson (2007), James Heckman (2000), and Robert E. Lucas Jr (1995).
Prior to joining Chicago Booth in 1995, Thaler taught at the University of Rochester and Cornell University. He has also been a visiting professor at multiple universities including the University of British Columbia, MIT Sloan, Stanford University, and the Russel Sage Foundation.