Sponsored Content
Cornell University is reimagining the model for business education Now, thanks to the development of the Cornell SC Johnson College of Business, which houses three business schools—the Charles H. Dyson School of Applied Economics and Management, the School of Hotel Administration, and the Samuel Curtis Johnson Graduate School of Management—students have more flexibility, cross-disciplinary study options, and collaborative opportunities than ever before.
The Cornell MBA
Cornell's Full-Time MBA programs have always been known for excellence. As part of one of the largest and most prestigious Ivy League universities globally, the school draws top faculty and student talent from all over the world. MBA students can expect cutting-edge coursework, top-tier faculty, immersion programs, varied electives, and multiple career opportunities.
And, now that the Johnson Graduate School is part of Cornell SC Johnson College of Business, the benefits to MBA students are even greater.
Flexibility Across Disciplines
Johnson encourages MBA students to explore various topics and opportunities related to their interests—and now those opportunities have expanded with the combined faculty, curriculum, and strengths offered by the amalgamation of the three schools.
Dean Mark W. Nelson explained it best with this example: "Let's say you're an MBA student interested in the business of food," Nelson began. "At Cornell, students can take advantage of significant coursework covering the entire food supply chain, from seed to sale. MBA students can take a course on food production at the Dyson School, and then follow that up with a course on food delivery offered by the School of Hotel Administration."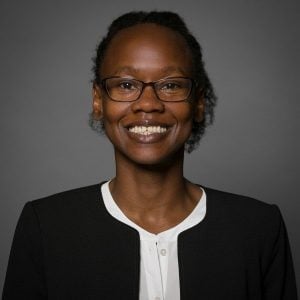 This flexibility to take the best courses with top faculty, no matter where they teach, is a unique opportunity. There are no longer boundaries between schools. As one student explains:
"The Johnson full-time MBA is like no other in that it allows me to truly make the two-year MBA experience my own. There are numerous opportunities to explore and dive deep into areas that I am most interested in," says Christine Mbaye Muchemu, MBA '19. "The Johnson MBA will allow me to expand on and try out ideas that I have in a safe space, thereby leading to both a richer learning experience and to a career that I can truly be passionate about."
The school's increased flexibility is also evidenced in the themes that cross both academic areas and schools—themes like sustainability, innovations and entrepreneurship, emerging markets, and behavioral economics and decision research that are broad-reaching, and therefore aren't "owned" by any one school. MBA students benefit from the combined strength of the colleges and the curriculum that spans all of these areas.
Better Collaboration
Along with more themes to choose from, Johnson MBA students and faculty have the opportunity to collaborate more effectively, as there is far less separation between departments and schools. In particular, the three schools now work together much more closely to recruit top faculty.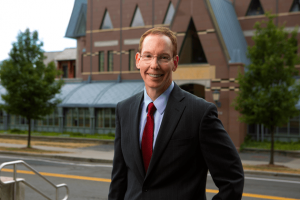 "When the three schools were separate, faculty recruitment and retention were siloed and we didn't have the capacity to offer specialized course loads," said Dean Nelson. "Now that faculty can work across all three schools, we are able to bring in exceptional individuals and offer the opportunity to focus on their area of expertise. This not only makes us more attractive to faculty but provides students an opportunity to learn from more experts in their field."
This collaboration between the schools also opens up the potential for greater networking with alumni and recruiters. Previously, Johnson had access to over 15,000 alumni. Now, there are over 36,000 alumni between the three schools.
"After my initial campus visit, a professor with whom I spoke for about five minutes facilitated introductions to four alumni in my target industry—completely unprompted," says Dave Elman, MBA '19. "All the alumni responded and were happy to share their experiences and introduce me to others in their network. And all these connections were formed before I even received acceptance into the program!"
The three schools also bring relationships with top organizations and recruiters to all SC Johnson College of Business students.
"We have recruiter relationships that we can now leverage to benefit students from each school," explained Dean Nelson. "We've also made it easier for recruiters: if they're coming to campus looking to hire undergraduates, they now have access to potential MBA hires without having to go through unnecessary additional steps."
Tech Relevance
Historically, the Johnson Graduate School was known for its strengths in finance, accounting, consulting and marketing. And while those areas are important, a new strength has emerged: tech.
"At Johnson, we have a lot of research work and curriculum related to tech, from designing data analysis courses to spreadsheet modeling, Fintech to digital marketing research, and more. We want our students to succeed in the digital economy," said Dean Nelson.
This focus on technology is represented through three different aspects of Johnson:
Johnson Cornell Tech MBA
The innovative Johnson Cornell Tech MBA one-year program designed to provide students with the leadership, management, and teamwork skills necessary to succeed in tech companies and product teams. The curriculum includes the same foundational courses as Johnson's other MBA programs, but is a more immersive educational model.
The program is structured around three experiential pillars: an immersive first semester in Ithaca, followed by two semesters at Cornell Tech. The curriculum features significant application of concepts in cross-functional teams of MBAs and Tech students, including a Product Studio in which teams tackle a consulting project and a Startup Studio in which teams develop a new business idea.
"The Studio curriculum is very applied and real-time" Dean Nelson explained. "Teams conceive of a product idea, prototype it, create a business plan, and compete for seed funding—they go through the entire process, from the spark of an idea to a fully-developed product. It's a unique and very exciting experience that prepares them for immediate success in roles like product management and entrepreneurship."
Digital Technology Immersion
Ithaca-based MBAs can elect the Digital Tech immersion, allowing them to develop first-hand experience and technical knowledge required for success in a high tech world.
In the immersion, teams of MBAs and engineering graduate students consult with leading-edge companies on their current business challenges. Through this consulting work, students learn basic skill sets such as coding, databases, and advanced analytics. Students who choose this Immersion have gone on to gain full-time employment with such companies as Google, Amazon, McKinsey, KPMG, IBM, and more.
"One key factor in choosing a full-time Johnson MBA is the immersion programs," said Ogbemi Ekwejunor-Etchie, MBA '19. "The opportunity to directly apply classroom knowledge to real-time problems and receive hands-on experience appealed to me—being able to walk into an internship and later, my career, already possessing the skills needed to do the job."
Johnson's Facility on the Cornell Tech Campus
Finally, there's Johnson's space on the new Cornell Tech campus which officially opened September 13 on Roosevelt Island. Johnson has over 20,000 square feet in one of the campus buildings, the Bridge, which co-locates tech-oriented businesses and academic work.
With multiple state-of-the-art class rooms and plenty of breakout rooms and other spaces, Johnson's faculty can offer coursework that benefits Ithaca-based students as well as those in New York.
The Result
The newly combined Cornell SC Johnson College of Business is about increasing success for all of its students, and, so far, it's running very smoothly.
This year's Class of 2019 Full-Time MBA candidates was one of the best yet. 277 new MBA students joined Cornell with an average GMAT of 700, an average of five years of full-time work experience, and represented 38 countries.
As for the 2016 MBA graduates, the results speak for themselves. 94 percent of graduates had at least one offer of employment three months after graduation with a mean salary of $121,228. "We have a very well developed Career Management Center that works hard to make sure our students are primed to succeed in securing jobs," Dean Nelson said. And as one recruiter commented, "The quality of students is as high as ever."
The Cornell MBA not only provides students with a high level academic experience, but also takes time to focus on the practical side, preparing students to make a difference. It's not a cookie cutter MBA program, but one that is constructed to meet each student's ambitions, so that they can be immediately effective upon graduation.
Please visit https://www.johnson.cornell.edu/ for more information and to apply!