This fall, the University of Michigan Ross School of Business has launched a new course for MBA and BBA students: "Living Business Leadership Experience Course." The course idea was piloted as a Multidisciplinary Action Project (MAP) in the spring with the goal of giving students a chance to run an actual business, start a business, and vet business ideas for three major companies: Shinola (a Detroit-based luxury brand), Ford Smart Mobility, and the NPR Group.
"Learning by doing prepares students for the challenges of their careers by developing their abilities to think independently, function with limited data, manage ambiguity, collaborate effectively, and continually grow from their experiences," Ross Dean Scott DeRue said in a recent press release announcing the new course. "Developing these abilities is the principal objective of experiential learning, and it forms the core of our academic philosophy at Michigan Ross."
The new course will allow students to roll up their sleeves, get down to work, and really get an understanding how business is done at one of the three companies. Each company will put its own unique spin on the student experience.
Shinola
The new course began as a pilot project with Shinola in the spring. For this experience, first-year Ross MBA students took part in a seven-week immersion at Shinola, reporting directly to the CEO. Their goal was to determine whether the company should enter the men's grooming category by examining every aspect of the business from finance to marketing to supply chain. Students were also forced to navigate the relationship between Shinola and its partner, a consumer-products giant. In the end, Shinola and the students decided to hold off on the men's grooming line, but it was still an incredible experience.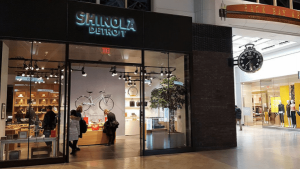 "A lot of our work was customer interviews and studying what people valued so we could best tailor the product insights into whether and how the Shinola brand would justify premium pricing in this category," said Ross second-year MBA student Katherine Moriarty.
Following on the success of last spring's pilot, Shinola will again host Ross students for a second immersion this fall. This time around, the students will be tasked with evaluating high-end audio opportunities the company might explore.
Ford Smart Mobility
Another group of Ross students will be working with Ford Motor Co, where they'll be developing a global business plan for the Smart Mobility division of the company. The challenge for students will be to work with Ford across different cities and municipalities to determine how autonomous driving should be rolled out. The partnership with Ross will include idea generation as well as consultancy to city and state governments on their infrastructure requirements to keep up with transportation.
NRP Group
Finally, students working with the NRP Group, a Cleveland-based real-estate company, will help develop a scalable business model for its urban affordable housing projects. Already, NRP has 27,000 residential units in 13 states and manages more than 100 properties, including 16,000 luxury, family, and senior rental units in eight states.
"This support can take many forms, including everything from mentoring services for at-risk teens to elder care," David Heller, the co-founder and principal of NRP, said describing what the company tries to achieve with its housing projects. "While we have achieved success stories to date, we are turning to Ross students to help us manage the efforts going forward and develop expertise such that we can offer consulting services to other companies that see the benefit of providing superior supportive services to residents."
To learn more about the new "Living Business Leadership Experience Course" as well as the companies who will be partnering with Ross in the winter, visit the program site.