Over the last two weeks, many of the leading MBA programs have released their Round 1 decisions. For a number of you, this means you now know which b-school campus you will be heading to in 2018. Before you start packing for your new adventure, head on over to MBA DecisionWire and complete an entry. It's anonymous and only takes a minute to post.
Sharing your profile, listing your choice of schools and declaring your decision proves useful for candidates who are just starting to explore their MBA application journey—or are in a conundrum of acceptances themselves.  Since its inception three seasons ago, MBA DecisionWire has received thousands of entries from candidates sharing their stories with their fellow applicants.

Guided through "Undecided"
Whether you have that one dream school already in the bag or multiple offers across exciting prospects, DecisionWire is the place for you.  Last season, we introduced the "undecided" category for applicants who are juggling multiple offers and still deciding where to go. The community then has a chance to chime in, offering their insights to help you make your final decision. Hundreds of undecided candidates have already posted to DecisionWire. If you are considering your options, join the conversation at MBA DecisionWire, and share which factors you are weighing for expert and community feedback.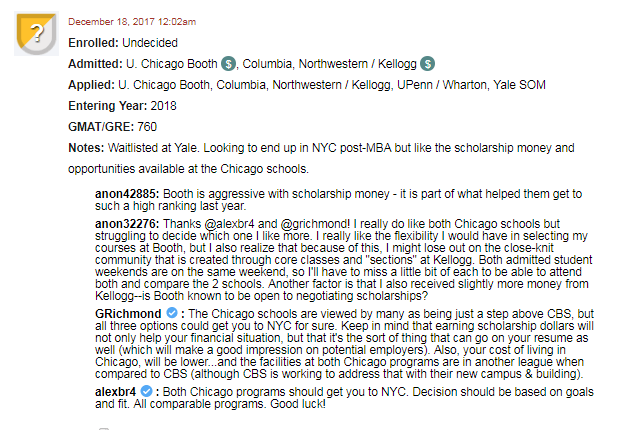 We wish you the best of luck as you move forward in your MBA journey, and hope Clear Admit has been helpful throughout your application process.