Do you have questions about how you can fund your MBA abroad?
Sign up for a live online info session with Prodigy Finance in partnership with Clear Admit to learn about how to finance your studies with a Prodigy Finance international student loan.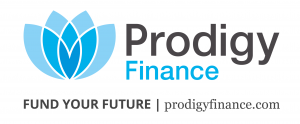 How Will You Fund Your MBA Abroad?
Wednesday, March 14, 2018
10:00 AM – 11:00 AM Eastern Standard Time
Click here to register
We'll cover questions like:
How can I pay for my MBA as an international student?
How does Prodigy Finance process work?
How much can I borrow?
What will my rate be?
What is the repayment process?
And more…
The workshop will be hosted by Magali Duque, a Relationship Manager in Prodigy's London office.
Magali is originally from Los Angeles and is currently a Relationship Manager at Prodigy Finance in the London office. She holds a Bachelor's Degree in History from Stanford University and a Master's of Science in Inequalities and Social Science from the London School of Economics and Political Science. She has professional research experience in global economic inequality, education policy, and corporate social responsibility.