Scoring a Job at Salesforce with Your MBA
Salesforce, one of the country's highest valued cloud computing companies, is actively looking for promising MBA graduates, offering diverse opportunities in tech, business, and sales. Since it's founding in 1999, Salesforce has been growing wildly, becoming the first enterprise cloud company tor each $10 billion in revenue as of August 2017. And Salesforce isn't just remarkable for its product's success—the company was also rated as the "#1 Best Company to Work For" by Fortune.
The Salesforce culture is centered around the idea of "Ohana" (Hawaiian for "family") and earned its place at the top of the list by offering incredible benefits to its employees—both monetary and mentally. It's understandable why MBAs would want a job at Salesforce Ohana, with its focus on helping strong performers find new challenges and opportunities for growth.
What Does Salesforce Look for in New Hires?
Salesforce makes recruiting a priority at every level through their Futureforce University recruitment program. Salesforce offers new hires the same incredible opportunities available to all of their employees—seven days of paid time for volunteering, networking opportunities, and access to the Executive Lunch & Learn and Speaker Series that puts interns and new hires in direct contact with Salesforce leadership.
Because of Salesforce's focus on having their employees give back to their communities, they seek out new hires who have made a demonstrated impact within their past efforts, whether at school or professionally. In 2015, Salesforce's senior vice president of global recruiting, Ana Recio, commented on the different ways applicants could make themselves stand out.
"What did you do to differentiate your job from others?'" she said. "What was your absolute impact, your legacy? We always look for people who truly were kind of thought leaders and change agents."
How to Get Your Foot in the Door?
MBA graduates and current students can apply directly for open roles. Current students will most directly benefit from the company's MBA internship: a 12-week program that students can pursue during the summer in between years one and two of their program. Each summer, MBA interns are hired in the fields of product marketing, product management, CSG business analyst, corporate development, and data analytics. If recruiters think there might be a good fit, applicants will likely be given a 30 to 60 minute phone screening, followed by an interview with a hiring manager. Before offering the position, MBAs will likely have to partake in a panel interview/case study, presenting their professional and academic accomplishments.
Salesforce also recruits recent graduates (those who graduated in the last 12 months) in the fields of tech, sales, and business. The precise roles and interview process for each varies depending on the field.
How Well Does a Job at Salesforce Pay?
The majority of hires at Salesforce, both full-time and interns, are for tech-centric positions. However, the company does offer supreme compensation for those with business degree backgrounds—especially those with an MBA.
According to Payscale data, MBA graduates wit a job at Salesforce earn between $85,000 and $160,000 USD annually.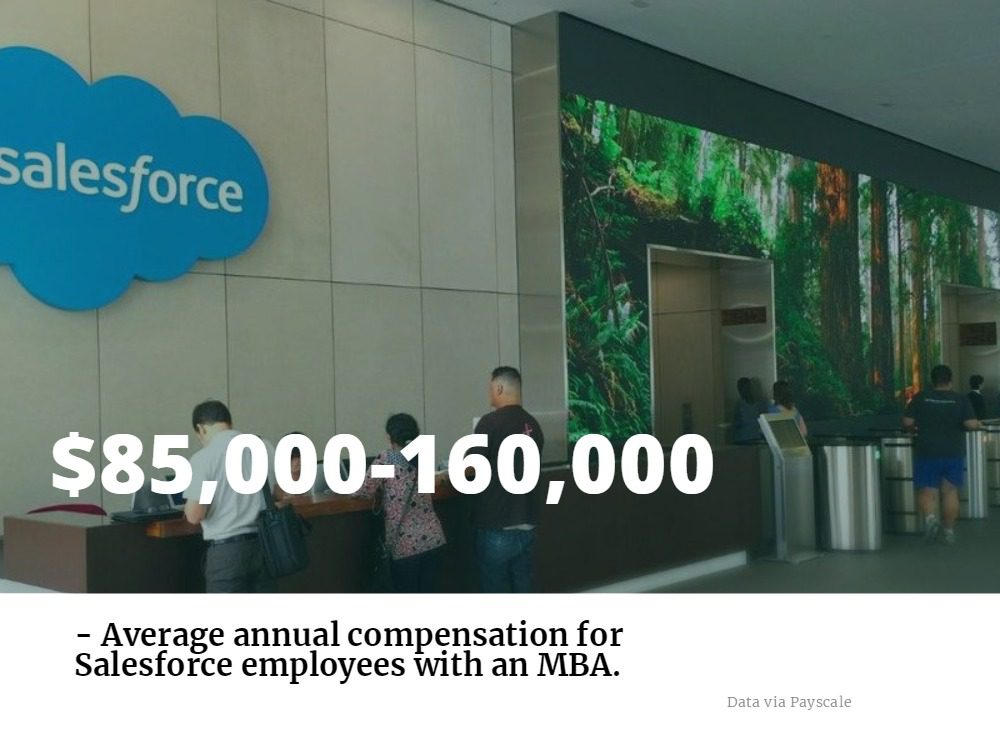 It's no secret that one of the reasons Salesforce tops the Glassdoor list of "Best Places to Work" is the compensation. Although, as with any position, salary will vary depending on a number of factors, Glassdoor's compensation of full-time employees shows a lower-end salary range of $60,000-80,000 annually (for account executives and sales engineers) and upwards of $141,000 for senior engineer positions.
What Do Current and Former Salesforce Interns Think?
Danielle, who interned with Salesforce as a product marketing MBA intern, commented on her work experience and Salesforce's company culture in this video. "Not only am I working on independent projects as part of the internship, but I'm also shadowing people in my team and really seeing what a true day in the life is for a project manager within the app cloud," Danielle said. "Other internships are very focused on their projects and feel very siloed but here at Salesforce I'm really able to be integrated with the team as a whole."
Eamon, a software engineer who began at Salesforce as a recent graduate, also commented on his experience. "As a new grad what's interesting is there really is no pathway you're supposed to follow, it's what you make of it," he said. "It's the people you go out of your way to meet, the experiences you make, the projects you decide to take on."
This post has been republished in its entirety from its original source, metromba.com.
About the Author