Artificial intelligence (AI) is a hot topic in almost every industry in the business world today. And there's plenty to chew on, particularly when it comes to its ethical and financial implications. Some intrepid MBA students at UC Berkeley's Haas School of Business have set out to tackle a few of the biggest issues head on with an all-day conference this month called AI: Shape the Future.
The April 13th event will take a multi-disciplinary approach to understanding AI, encompassing computer science, business, and policy. The day will feature presentations from industry professionals, faculty, and school administrators from across the Haas campus. As of mid-March, more than 200 had already registered to take part.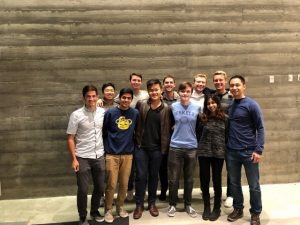 Speaking with Clear Admit, Brian Polidori, MBA '19, who co-organized the conference with Daan Kakebeeke MBA '18  & AJ Christensen '19, discussed the vision for the upcoming conference, noting that its goal is to bridge a gap in understanding and cooperation between engineering, law, policy, and business students. They hope "to bring together diverse perspectives on AI from multiple corners of UC Berkeley and Silicon Valley to bridge this gap" and "break past the clichés and technical details," he said.
Students from a wide variety of backgrounds recognize that a cross-disciplinary approach is key in moving AI forward, Polidori says, but they also recognize the inherent difficulties.
"It's tough for any curriculum to address this and so there is an interesting trend where students are self-organizing from the bottom up to bring these perspectives together. Engineering, law, policy, and business students realize they need each other."
A diverse day that features speakers from across the spectrum of AI, the summit will be split into three major sessions.
The first, "AI Foundations," seeks to get every student up to speed on AI techniques and applications by asking the question, "What advancements are driving today's renaissance in AI development?" The morning session also will explore just what's possible with today's state-of-the-art technologies. Planned topics include a brief history of AI and a survey of current applications and overall industry.
Midday will bring the "Startup Showcase," hosted by Amplify VC, featuring demos from many of the best startups working with AI at Berkeley today.
The third and final session, entitled "AI Impact," will examine how AI is shaping the future of business, the economy, and society as well as the risks and opportunities inherent in accelerating its development. This session will drill into three pressing topics: opportunity recognition, the impact of AI on the economy, and the new laws and policies emerging in response. It will also examine the social implications of AI, with presentations across a variety of technical, financial, and philosophical topics including "Bias in AI algorithms," "AI: Boon for Economic Activity," and "AI: Threat to Equality and Employment." The concluding session will tackle one of the most unnerving topics of all: "Is AI an Existential Threat?"
A power-packed speaker line-up includes current Haas Deans Rich Lyons; former Haas Dean Laura Tyson, who is currently the director of the Institute for Business & Social Impact, Amazon Head of Machine Learning Gert Lanckriet; Berkeley Computer Science Professor Moritz Hardt, a leader on bias in AI; and Andrew Critch from the UC Berkeley Center for Human-Compatible AI.
The conference will take place April 13th from 8:30 a.m. until 4:30 p.m. in the Pauley Ballroom on UC Berkeley's campus. Registration is still open, and ticket prices vary depending on student status. (Grad students can attend for $20 per person.) But tickets are going fast for what promises to be an exciting and informative look at the issues and intricacies of AI.