On Wednesday, May 23rd, the Rustandy Center for Social Sector Innovation at the University of Chicago Booth School of Business announced the winners of its eighth annual Social New Venture Challenge (SNVC). The center awarded $70,000 total in venture funding and an additional $30,000 in specialized awards.
The SNVC is open to currently enrolled Chicago Booth students. Teams that include unaffiliated individuals may apply if they have at least one current Chicago Booth student as an integral member of the team.
First Prize for Autism Services

The first-place winner and recipient of $45,000 was AIM Clinics for its proposal to provide cutting-edge autism therapy to rural American patients. AIM, which stands for Autism in Motion, focuses on providing expanded resources in areas of severe care shortage and weak infrastructure support. A pilot program, open to Medicaid-eligible children in Arkansas, covers health insurance premiums and some out-of-pocket expenses for Applied Behavior Analysis (ABA)–based treatment. ABA is an intensive behavioral and skill development program designed to help expand children's access to social opportunity, well-being, and autonomy. AIM Clinics also received additional specialized funds in the form of the $20,000 Early Childhood Award.
Two Mobile Platforms Tie for Second Place
Shakti is a "mobile intervention" platform that gives women in India who have low literacy the means and power to access information about public health. Shakti, which means "strength" in Sanskrit, also took home additional specialized funds in the form of the $10,000 Tata Centre for Development Social Impact Award for India, earmarked for establishing a pilot in India.
Tied for second place with Shakti was VouchCircle, designed as a professional networking platform for people in under-served communities to connect for professional development, share information about jobs, and provide recommendations for each other to get hired. At the time of this release, it is currently invite-only.
More Finalists Focus on Providing Digital Solutions
Additional finalists included Gather Activism, a digital platform and organizing tool for political activism; Insights for Impact, a for-profit data analysis tool for mid-sized nonprofits; Mighty, a free, community-based banking solution; and Unbreakable, an anti-bullying video course that introduces scientifically proven psychological tools for self-empowerment.
SNVC finalists also received more than $200,000 worth of in-kind services, including office space, legal services, and professional consulting.
The SNVC is the social impact track of the Edward L. Kaplan, '71, New Venture Challenge (NVC). The NVC is Chicago Booth's nationally ranked business accelerator program, which has been listed among the top eight accelerator programs in the nation by the Seed Accelerator Rankings Program since 2015. Stanford's is the only other university-based accelerator represented in these rankings.
"Each year, I'm more impressed with the commitment and enthusiasm UChicago students have for making a meaningful impact on social issues," John Edwardson, Rustandy Center faculty director, said in a statement. "As the SNVC has expanded its reach at Booth and across the university, the social entrepreneurs who participate have developed even stronger business models and pitches. I'm proud to support their work."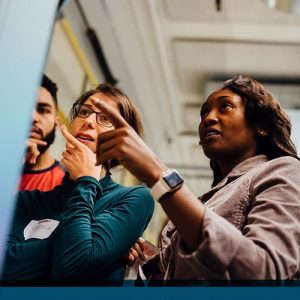 The Rustandy Center is a social impact hub and resource center that supports developing leaders in social change. The program awards venture capital to projects with ambitious plans for social impact and an eye for financial sustainability.
The Rustandy Center integrates Booth's "Chicago Approach" to multi-disciplinary business education. The idea is to combine experiential learning and entrepreneurship in an effort to re-direct these forms of knowledge toward creating positive social impact. Since the Rustandy Center's founding in 2011, it has launched 90 social impact startups and funded 12 research projects on issues central to nonprofit management.
Among the Rustandy Center's other initiatives is the Edwardson Social Entrepreneurship Program, which provides support to businesses and nonprofits built on social missions. It also funds social impact research, forms curricula, programs nonprofit boards, and provides social impact career resources.