When Nobel Peace Prize winner and former Secretary of State Henry Kissinger was invited to speak at NYU Stern, people weren't happy. Around 100 people gathered to protest his talk in Gould Plaza, interrupting him four times and telling him to "rot in hell." The protestors were out in force to call out Kissinger for his role in bombing Cambodia and North Vietnam. He was also called out for overthrowing Chilean president Salvador Allende and more.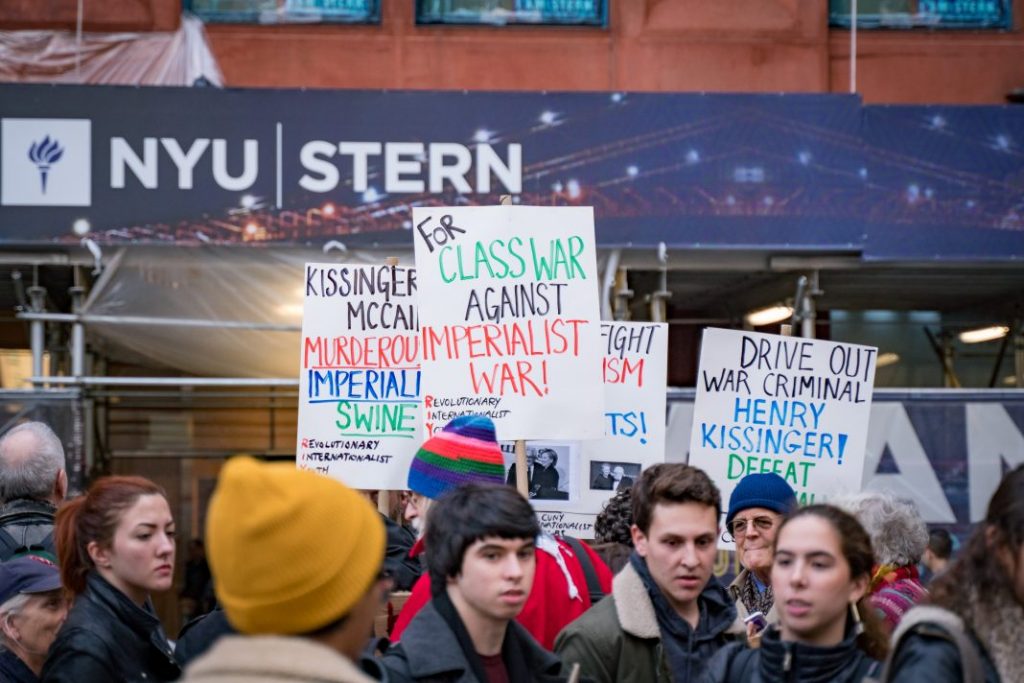 The protests against Kissinger began as soon as NYU Stern made public that he would be a guest speaker during the series, "In Conversation with Lord Mervyn King." Right away, more than a dozen student organizations wrote a letter asking the university to cancel the event and organized a protest titled, "No War Criminals at NYU." So, when NYU Stern went through with Kissinger's appearance, the results weren't surprising.
Outside the event, protestors hurled insults, "How many kids have you killed today," and carried signs saying, "Prosecute Kissinger." And inside wasn't any better.
Though no press was allowed inside the invite-only room, protestors still managed to make it a rowdy event. On several occasions, audience members stood up to shout at Kissinger with one person yelling, "You are responsible for the murders of thousands of Latin Americans, including people who are close to my family!" Another yelled, "You are a war criminal, you have committed genocide." In each case, security removed the protestor, but the damage was done.
It was quickly clear that Kissinger, who is now 95 years old, was not welcome at NYU Stern, though he handled the situation carefully. Kissinger remained quiet throughout the protests and instead focused on talking about his experience as a diplomat during the Cold War. He gave his opinions on populism, spoke about fighting in the U.S. Army against Germany (his home country), and even gave insight into his thoughts on Donald Trump and the Israel-Palestine conflict.
As for NYU Stern's response, spokesperson John Beckman said the dissent was welcome.
"The free exchange of diverse ideas and viewpoints is a fundamental value at NYU," Beckman said in an email to WSN. "As such, an invited speaker should be able to be heard without disruption. We also recognize the importance of dissent. As is the case for all events on campus, particularly those that involve controversy, the university will take the appropriate steps to ensure that this event takes place and the speaker is able to carry on."
You can read more about the protests in the Washington Square News, NYU's independent student newspaper. (Feature photo by Tony Wu)