Did you make it through Round 1? First, congratulations! But next, where did you end up and where do you want to go from here?
Whether you're dealing with lots of dings or have the luxury of choosing where to attend, or if you received a few acceptances, but think you can aim higher, our latest podcast is for you.
In Episode 26: Round 1 and Done?, Clear Admit resident admissions experts, Alex Brown and Graham Richmond, break down the possibilities for candidates who applied in Round 1 and discuss how they should (or shouldn't) approach Round 2.  They also talk about scholarship support, and how they can influence one's approach.

This podcast episode is sponsored by Georgetown McDonough School of Business.
You already know you're capable of greatness, but wondering just how much you can achieve isn't enough. To truly have an impact on the world, you have to go find out exactly what you're made of. It's what sets the doers apart from the merely curious. With a curriculum designed to prepare you for the global stage, plus access to all Washington, DC has to offer, Georgetown's McDonough School of Business is the perfect launchpad for your career. Get started at choosegeorgetown.com/mba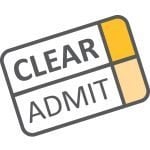 If You Like What You've Been Hearing, Please Subscribe and Rate Us on iTunes!
We love seeing the audience for our podcast series continue to grow! Please, if you have enjoyed what you've heard, won't you take a moment to rank the Clear Admit MBA Admissions Podcast in iTunes? That can really help even more listeners find us. To ensure that you never miss an episode, you could even subscribe.
Thanks to all of you who've been joining us!