Each year, business schools host "Welcome Weekends," during which new MBA admits go to campus for a preview of life to come as full-time residents and students.  In April,  Cornell Johnson hosted their version of a welcome weekend, known as Destination Johnson (DJ).  The school welcomed 140 new full-time MBA students to learn more about the school's available resources as well as the many academic and co-curricular opportunities.
The weekend also brought in more than 240 current MBA students and their families to work as volunteers. These individuals acted as hosts to feed, inform, and entertain the future class throughout the weekend, which included team building exercises, information panels, and social events. During the event, the new class experienced the ambitious and diverse community that they will be a part of first-hand.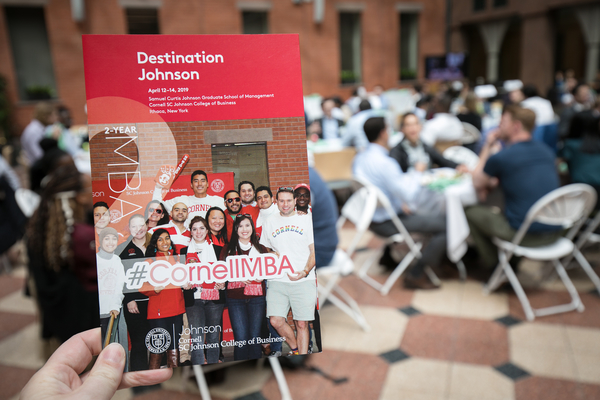 Weekend Highlights
A few highlights from the Destination Johnson (DJ) event, include:
Welcome Address
Thanks Dean Nelson & @Judi_Byers for formally welcoming our Class of 2021 to #DestinationJohnson and sharing all of the exciting things happening at @Cornell! #CornellMBA pic.twitter.com/nsg7ZquWF2

— Johnson Admissions (@CornellMBA_Adm) April 12, 2019
The weekend began with an official welcome from Judi Byers, the executive director of admissions and financial aid, and Dean Mark Nelson.
"Together, you've shown us that you not only have the intellectual curiosity and resilience to be successful in our classrooms, but the self-awareness, motivation, and drive to become the very best version of yourself—and you will, here at Johnson," said Byers.
"What defines Johnson, and ripples out to define our college and define Cornell, is that people are remarkably driven but also remarkably supportive," said Dean Nelson. "They have each other's backs as they're driving each other forward at the same time."
Keynote Address
Hernan J.F. Saenz III, MBAMILR '98, head of global performance improvement practice at Bain & Company, reflects on his business education: "You may think an MBA is only two years … I'm here to tell you that my MBA has been with me for 22 years." #CornellMBA @BainAlerts pic.twitter.com/qgqb6kxZj5

— Johnson at Cornell (@CornellMBA) April 13, 2019
The head of global performance improvement practice at Bain & Company Hernan J.F. Saenz III (MBA '98) delivered the keynote address. Saenz pent two and a half years at Cornell Johnson before going on to earn a position at Bain & Company. In his speech, he shared how well Cornell Johnson trained him for his roles and how well his time helped him to grow as a leader.
"I was able to do consulting projects and even wrote a business plan that I could've funded, had I not decided to go to Bain. It's that sort of incredibly practical training that has helped me find so much success," he recounted.
Other Highlights
Other highlights from the event include:
Advice from the co-chairs of the MBA student council.
A welcome event for Consortium members and Forté Fellows.
Tours of the campus and Ithaca community.
Team building opportunities with Legos.
A student housing and club fair with more than 70 organizations.
A Career Management Center (CMC) presentation about launching your career post-MBA.
Panel sessions featuring specialized topics and incredible opportunities.
An Immersion showcase providing insight into Johnson's Immersion curriculum.
Lunch and brunch conversations for attendees.
Learn more about all that happened at Cornell Johnson DJ 2019.