Our new series, MBA Admissions Brief, continues with tips and advice about the Leonard N. Stern School of Business of New York University, located in Manhattan.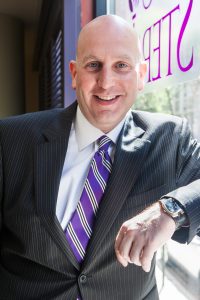 We hear from the Associate Dean of Admissions and New Program Innovation, Isser Gallogly,  who came to Stern over 15 years ago. Since then, he's had a hand in almost every aspect of admissions for the school's MBA programs. After a start in banking, he himself sought out an MBA to pivot into marketing, spending several years working for Mattel, Unilever and L'Oreal before heading into higher education. So he understands the MBA application process from both sides, as well several of the career paths the degree can help students pursue.
Read on for his insights into the NYU Stern MBA program.
What would you say to someone who's applying next fall and just getting started in the MBA application process now?
Take time to reflect on your goals and why you believe an MBA is the optimal path.  Determine where you'd like to take your career and start to connect with people in the industries that interest you.
Once you have a clearer picture, begin researching schools to find your fit. At Stern, aside from speaking to our Admissions team, we can connect you with current students who are eager to share their journeys and experiences to help you chart your own.
Next, use this time to start taking stock of your strengths, core characteristics and professional accomplishments and begin to think about how you'll tell your personal story. At Stern, for example, a unique and relatively new part of our application is our popular Pick Six visual essay. The Pick Six asks you to express who you are through six images, such as pictures, charts, infographics and artwork, along with six short captions. This is an opportunity for you to go beyond your résumé and tell the Admissions Committee about who you are as a person, what's important to you and what you are passionate about. We've gotten great feedback from candidates who say they had fun with this part of the application.
Of course, be sure to get your MBA prep house in order. Schedule to take the GMAT or GRE, request your official transcripts and begin cultivating your recommenders or EQ Endorsers, in Stern's case. Think about who you will ask and get to them early. Take them out to coffee and speak with them about why you want an MBA at this point in your career and discuss what you hope they can tell the Admissions Committee. Give them deadlines and follow up as the dates approach. You are responsible for submitting every other piece of the application, so it's important that your recommender knows the timeline and submits it by the deadline.
What's the one thing MBA candidates should know about selecting a recommender?
At NYU Stern, we look for applicants with both intellectual and emotional intelligence, what we call IQ+EQ. To help us assess these qualities, rather than traditional recommendations, we ask applicants for two EQ endorsements.  These are testimonials from an advocate of the applicant who can give specific examples of demonstrated EQ, such as a time you demonstrated self-awareness, self-management or empathy.
While typical professional recommendations are frequently restricted to managers or supervisors, we only ask for one EQ Endorsement from a direct supervisor. The other is your preference and might come from a team member, colleague or friend. Anyone outside of immediate family members can endorse an applicant.
What's your program's most exciting change, development or event coming up in the year ahead?
It's been an exciting time here at Stern. In May, the inaugural cohorts from our two new focused one-year full-time MBA programs, the Andre Koo Technology and Entrepreneurship MBA and the Fashion & Luxury MBA, graduated. We welcomed the new cohorts of these one-year programs that same month.
This year we also announced the launch of a new online Master of Science in Quantitative Management Program, officially marking our entrance into the online degree category as the first and only top-ranked U.S. business school to deliver an MS in Management online. The program is for early-career professionals with limited business experience from a range of industries and academic backgrounds, who want to build their knowledge of business fundamentals while honing their data skills—a requirement for advancing in your career in today's data-driven world. The program kicks off this summer.
Of the big trends in business education right now (tech, globalization, analytics), what are you doing or innovating in one (or all) of these spaces?
Stern has been continuously innovating in tech, globalization and analytics. On the program front, in addition to our new full-time focused Andre Koo Tech MBA and online Master of Science in Quantitative Management Program, which I mentioned earlier, in June, we'll welcome students in the inaugural cohorts of the new one-year master's programs offered jointly by NYU Shanghai and NYU Stern, the MS in Quantitative Finance and MS in Data Analytics & Business Computing programs, to Stern's campus for orientation. These programs are aimed at preparing new and recent college grads for careers in analytics and finance in China and Asia, with semesters at NYU Stern in New York City and NYU Shanghai in China.
These new programs build on Stern's existing strengths. In 2013, we were the first top business school to introduce a Master's in Business Analytics program, which recently celebrated its five-year anniversary.  In 2016, we became the first business school to create a Fintech MBA specialization, Stern has also been expanding its research centers. In 2017, Stern established The Fubon Center for Technology, Business and Innovation. The Center serves as hub for cross disciplinary collaboration in Fintech, data analytics and technology innovation.
What would you like to highlight about your post-MBA career placement success?
We will know more in the fall when we issue our employment report for our most recent full-time MBA graduates.  One early trend we can share is that we're seeing tremendous growth in consulting offers accepted compared to this time last year.
And for more context, for Stern's Full-time MBA Class of 2018, the employment rate three months after graduation was the highest in five years at 93.7 percent. Base salary and signing bonuses were also strong, jumping 6.5 percent and 7.5 percent, respectively, over the year before.
Stern's Office of Career Development reaches out to MBAs before their first semester even begins to start preparing. The early, personal engagement, along with the quality of our students, a strong employment market, and Stern's location in NYC, just steps away from global headquarters for countless brands, has led to great employment success for us across industries.