In this edition of MBA Admissions Brief, we hear from Alex Lawrence of the UCLA Anderson School of Management.  The Anderson School of Management is situated amid the greater University of California, Los Angeles campus in the Westwood section of the city of Los Angeles.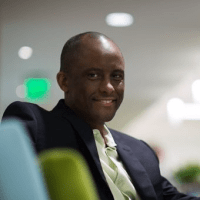 Alex Lawrence, Class of 1999, became the Assistant Dean of Admissions and Financial Aid in August 2012. He had been the Executive Director of The Riordan Programs at UCLA Anderson since 2004, working with Professor Bill Ouchi and Riordan Programs' founder Mayor Richard Riordan to advance high school and undergraduate students' development and educational attainment. Prior to his leadership of the Riordan Programs, Alex worked at Cap Gemini, where he developed CRM strategies and trained clients in the automotive, medical and insurance industries.
As Executive Director of Riordan, Alex developed creative programs and initiatives which target students who are the first in their family to apply to college, current undergraduates, or professionals seeking an MBA degree. Program achievements include a 100% success rate of high school participants continuing to college, and nearly 70% of Riordan MBA Fellows obtaining their MBA at the nation's elite business schools.
Read on for his insights and advice about the MBA application process.
What would you say to someone who's applying next fall and just getting started in the MBA application process now?
First of all, I would say congratulations! If you are "just getting started," then you made a recent decision ….(a great one in my opinion)….to take the next leap in your professional development, expand your social network, and explore what the future (the next 2, 5, 10 years) could look like for you. Use this time to understand what interests you about the MBA experience, what the different programs offer at the schools, talk to as many different people as possible, including students, staff, alumni, and other applicants. And as you go through the process, try to learn as much about the process and what it entails. Even though it can be stressful, try to have fun in the process, because in the end, the experience of matriculating to an MBA program should be a celebration of your accomplishments.
What's the one thing MBA candidates should know about selecting a recommender?
Choose a recommender who is willing to write a letter of support that speaks to your professional (and any other) accomplishments as well as your potential success.
What's your program's most exciting change, development or event coming up in the year ahead?
UCLA Anderson will be opening the new Marion E. Anderson Hall in winter 2019.  This 64,000 square-foot building will function as the hub of student life, bringing together alumni, students, faculty, recruiters and guests in common areas, meeting rooms and active-learning classrooms. This new addition will provide technology-enabled classrooms, dual-function event space and program offices that will best serve our students—from admission through recruiting.  It will also feature a new career center with modern recruiting facilities, including modular spaces to allow for 90-180 person corporate events and new interview rooms.
Of the big trends in business education right now (tech, globalization, analytics), what are you doing or innovating in one (or all) of these spaces?
Analytics – UCLA Anderson launched the Masters in Business Analytics program to teach individuals how to extract business insights from the vast data available in the global marketplace.
What would you like to highlight about your post-MBA career placement success?
During the past decade, UCLA Anderson has seen a dramatic increase in the number of students interested in the technology industry.  This past summer, 35 percent of the class of 2019 spent their summer internships in technology.  They were in a variety of functions, including product management, product marketing, operations, finance, and operations.  We are also seeing technology play a role in many other industries, including consumer products, entertainment, and others.