Why do you want to earn an MBA? Are you looking to change careers, gain more skills and knowledge, or do you have another reason entirely? The value of an MBA is different for everyone, but there's no doubt that graduates want to get something out of their MBA program. Most often, it has to do with their career.
According to a 2019 Association of International Graduate Admissions Consultants (AIGAC) survey of nearly 1,000 MBA applicants:
The number one reason most applicants (63 percent) apply to an MBA program is to "acquire new information, skills, and/or knowledge."
After that, 57 percent of MBA applicants want "access to job prospects (change career)."
So, when applying to MBA programs, post-graduation outcomes should be an essential—if not the most essential—consideration. And that's the case for Georgetown University's McDonough School of Business various MBA programs.
Based on a 2018 Bloomberg Businessweek recruiter/employer ranking of full-time MBA programs, Georgetown McDonough scores first in the world for having the best-trained graduates. In fact, the school ranked in the top seven for all six categories:
1st in the world for having the best-trained graduates,
3rd in the world for having the most creative graduates,
3rd in the world for showing exceptional entrepreneurial skills,
4th in the world for the value of the school's brand,
4th in the world for the school's reputation for entrepreneurship, and
7th in the world for the diversity of the recruitment pool.
To gain more insight into what Georgetown McDonough does to rank so well with recruiters, we interviewed Prashant Malaviya, the senior associate dean of MBA programs. Read on for his in-depth overview of how McDonough prepares their MBA students to be leaders and problem solvers in an ever-changing business world.
How does McDonough integrate the changing needs of employers into the curriculum?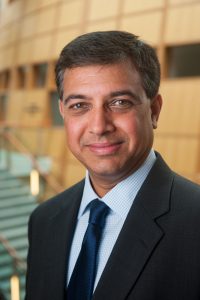 First, we work very hard to develop strong relationships with recruiters and alumni, engaging both as often as we can. Not only do we engage them for hiring purposes, but we also engage them to learn about the emerging skills, knowledge, and mindsets they want most from their employees.
We are always asking questions. Then, we make it part of our normal operating procedure to keep on top of those emerging trends in the marketplace and integrate them into our program. We do this by either updating our current curriculum or developing new aspects of our curriculum.
For example, most legacy big banks are creating innovation departments or teams—this might be a venture capital group or another innovation vehicle that mimics what a startup is doing. So, we know these banks want to attract top MBA talent interested in entrepreneurial opportunities. In response, we are currently partnering with various organizations that have internal innovation incubators to help us develop new, cutting-edge courses.
From there, we take it one step further and include the new knowledge in our experiential learning opportunities. We might start a new case competition or invite a recruiter/firm to host a workshop. For example, we recently began hosting a series of hackathons because coding is an essential skill recruiters are seeking.
Can you tell us a little more about these experiential learning opportunities and how they impact your students?
Experiential learning is embedded in the DNA of Georgetown McDonough. Our Jesuit heritage focuses on the notion of educating the whole person, which inhabits the idea of learning by doing, or "Learn, Act, Reflect."
Learn: Individuals learn first in the classroom.
Act: After understanding the new knowledge, students take what they've learned and apply it in a concrete way.
Reflect: Lastly, our students reflect on what they did.
This is a continuously repeating cycle that's essential to learning, which is why we've increased the number of experiential projects we offer over the last five years. Our faculty and staff find and source new opportunities all the time, creating partnerships with various organizations, many of them local in D.C. The ultimate goal is to have a pipeline of projects that students can actively work on.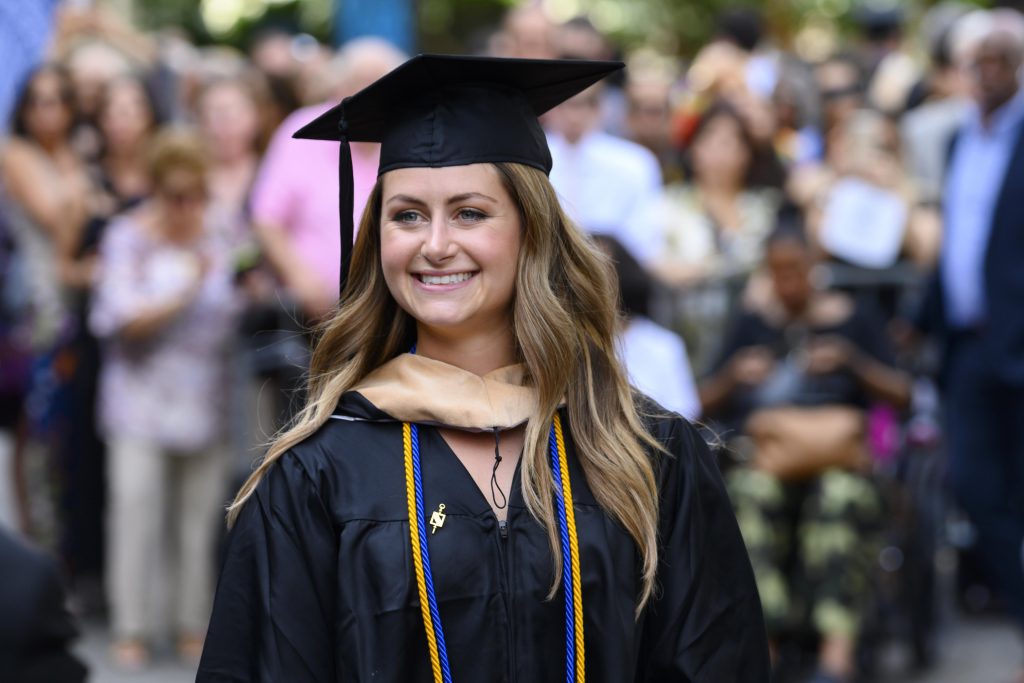 One of the experiential projects we're most proud of is the required Global Business Experience. Students choose from among 100 real-world multinational organization projects from outside the United States and spend a semester working on a complex business challenge before delivering their solution on a trip during their spring semester. And that's just the start.
Another highlight is our second-year MBA project that all 250 students are required to complete. It's a wonderful opportunity for our students to work for a real company, solving everyday problems. Last year, we collaborated with the Washington Metropolitan Area Transit Authority (WAMATA), which operates our regional public transportation systems, on a talent retention project. The objective was to provide WAMATA leadership with ideas for a culture of excellence, employee support, and enhanced retention.
Beyond one-off projects, we also bring in experts from the business world to help teach some of our courses. Especially for electives, we've been exploring the idea of creating in-depth collaborations between our professors and alumni/leaders in the industry. In these collaborations, the professor and the expert sit down and design the course together—from the syllabus to assignments. This makes the business expert more than just a guest speaker. Instead, they have a strong role throughout the course.
What about outside the classroom? How do your co-curricular opportunities prepare students for the business world?
Our co-curricular bucket offers many high-quality opportunities for students. These activities not only enhance their real-world business experience, which makes them more attractive to potential recruiters, but they also increase their exposure to new business areas.
And, to a large extent, these activities are student-initiated. Students ask for what they want to learn, we work with them to offer something, and if it works out, then we regularly integrate it into the co-curricular calendar.
Ultimately, our goal is to try and offer things that allow us to be as agile as possible. We want to be able to respond to the changing nature of business and to prepare our students for the nature of that work by constantly asking questions about what skills and knowledge they'll need to be successful.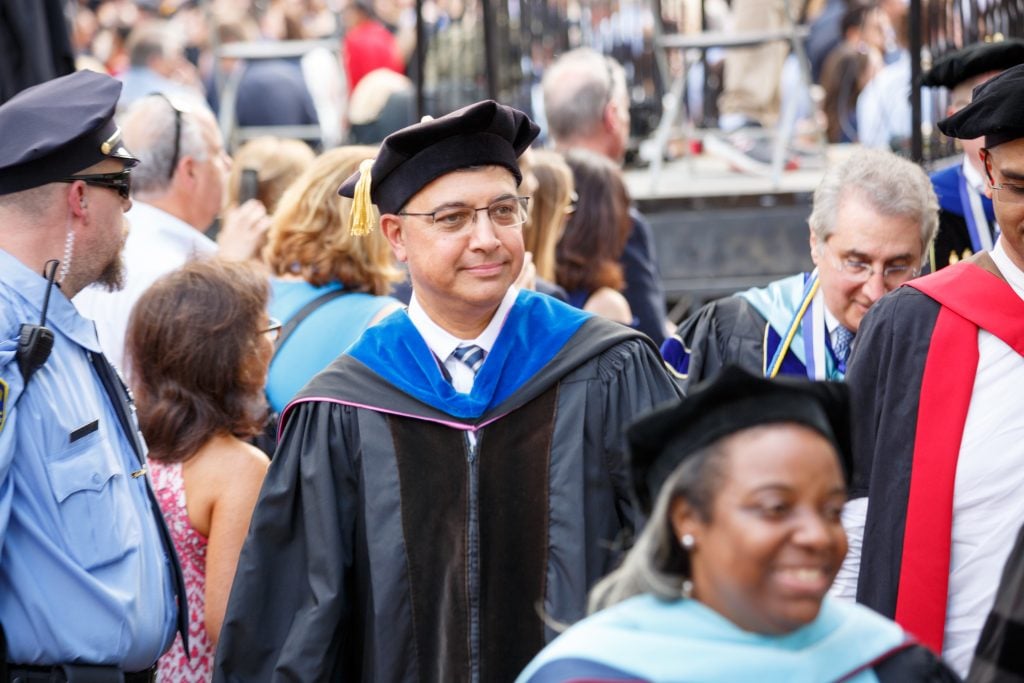 Here's a little of what that looks like.
Workshops and Seminars
We regularly host workshops and seminars with industry experts. They're a great way to provide our students a first-hand look at a growing area of interest or career opportunities. For example, we have an alumnus who works in Silicon Valley as a senior product marketing manager. He comes twice a year for an optional workshop that provides "a day in the life" of his career.
Clubs
McDonough is home to more than 40 MBA student-run organizations—cultural, interest-based, service, recreational, and student government. And, over the last couple of years, new clubs have opened up that match emerging business trends and focus on the skills and knowledge that recruiters want.
For example, HoyAlytics is a cutting-edge initiative that helps non-data savvy students get their feet wet in data analytics and gets data-minded students together to advance their skills. The club hosts all kinds of events from hackathons to competitions that engage a significant portion of the student population.
Competitions
We also participate in and host various case competitions. For example, there was a recent day-long corporate finance competition put together by a leading banking institution. And, at the end of last year, our students placed first out of 74 teams from 41 business schools at the annual U.S. Chamber of Commerce MBA Case Competition.
Why do you think recruiters rank McDonough graduates as the best-trained?
Ultimately, we believe the number one thing recruiters want from their MBA hires is the ability to communicate effectively, and we really emphasize that. In fact, we completely redesigned our core course on communications three years ago to better cater to employer needs.
This redesign included creating a day-long Executive Challenge experience for all of our students. During this challenge that simulates a day in the life of a senior leader, our students face over 140 executives and senior alumni, presenting various case analyses and scenarios to be judged. The goal of this intense day is to really develop and sharpen our students' communication skills.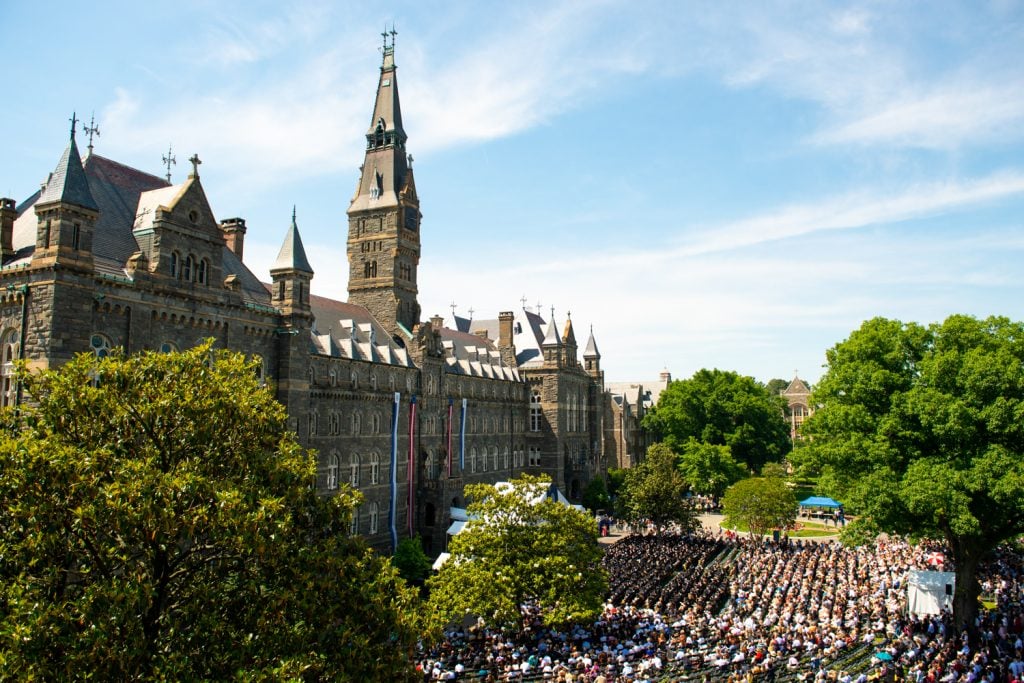 We also believe that recruiters are looking for a culture of collaboration. And, within Georgetown McDonough, there's a strong community that recruiters highly value. They especially appreciate how our globally diverse and digitally connected team works on various projects within large and small companies.
In the end, I believe that recruiters think we have the best-trained graduates because we don't sit on our laurels. We continually engage employers and alumni to see where the future of education is going. Then, we continually evolve to meet those demands. That's what a "whole person" education is all about.