We are thrilled to continue our  Admissions Director Q&A Series with Danielle Richie, the senior associate director of full-time MBA admissions at UNC's Kenan-Flagler Business School.
Danielle Richie began at UNC Kenan-Flagler in April 2018. She has more than 12 years of higher education experience within admissions and student recruitment with a primary focus on the MBA. Previously, Richie worked at Syracuse University and Bentley University recruiting MBA candidates from around the world.
At UNC Kenan-Flagler, Richie oversees the full-time MBA admissions team and overall recruiting process. She is a co-chair of Empow(H)er for women, male allies and advocates, advisor to UNC Kenan-Flagler MBA Student Ambassadors, a liaison with The Consortium and a mentor for Dean's Fellows projects.
Read on for her insights into the MBA program and the admissions process at UNC Kenan-Flagler.
Clear Admit: What's the single most exciting development, change, or event happening at UNC Kenan-Flagler in the coming year?
Danielle Richie: Welcoming our first-year students to Chapel Hill is one of my favorite times of year. Their arrival is followed by the return of our second-year MBA students, who are eager to see each other, welcome their new classmates and share their internship experiences.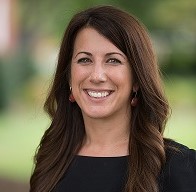 Professor Brad Staats is the new associate dean of MBA Programs at UNC Kenan-Flagler. He has taught in all of our MBA programs, and has designed courses on data analytics and decision making, He's spent the last few years leading our new Center for the Business of Health, which has resulted in many new opportunities for our MBA students focused on healthcare–from coursework to consulting projects to company engagement.
His broad-based operations research intersects with organizational behavior, and led him to write his award-winning book, "Never Stop Learning: Stay Relevant, Reinvent Yourself and Thrive" (Harvard Business Review Press). He is excited about his new role and uniquely prepared to lead our MBA programs.
CA: What is the one aspect of your program that you wish applicants knew more about?
DR: While many people know of Chapel Hill as the quintessential college town, they might not realize what a dynamic region we are a part of–the booming Triangle. We are one of the points of the Triangle, which includes Durham and Raleigh. It is home to Fortune 500 companies, many small and midsize companies, and hundreds of startups.
Having all of this in your backyard benefits you while you earn your MBA, because we are deeply involved with the business community, and expands your network wherever your career takes you after graduation. Our alumni are in all 50 states and 86 countries, so your MBA from UNC Kenan-Flagler can take you wherever you want to go, with top employers recruiting our students from the east coast to the west coast and everywhere in between.
CA: Walk us through the life of an application in your office from an operational standpoint. What happens between the time an applicant clicks "submit" and the time the committee offers a final decision (e.g. how many "reads" does it get, how long is each "read," who reads it, does the committee convene to discuss it as a group, etc.)?
DR: At UNC Kenan-Flagler we go through an extensive review process of every complete application. Once a candidate hits "submit," the application cycle begins with the first read: an in-depth evaluation of your application, including all supporting documents, such as letters of recommendation, essays, transcripts and resume. The first read is 30 to 45 minutes per application.
Next, there is a second read who has access to the full review, which includes the interview report, reader one's comments and test scores. It also includes student feedback centered on experiences during the Campus Visit Program, Coffee Chats, special events or digital ambassadors. The second reader is a member of the admissions team and/or a committee participant who provides a recommendation on decision.
Lastly, the admissions team goes into committee for a few days behind closed doors in an undisclosed location. We review all applicants to finalize decisions, award merit fellowships and select Dean's Fellows.
Our team brings in members of our Career & Leadership team, our Dean's Fellows liaison and, sometimes, the Associate Dean for MBA Programs. The goal of the committee is to make sure we find candidates who have strong IQ and EQ, clear career goals and, most importantly, fit UNC Kenan-Flagler. We don't have a set matrix to make these decisions; we think of it as an art and a science.
CA: How does your team approach the essay portion of the application specifically? What are you looking for as you read the essays? Are there common mistakes that applicants should try to avoid? What is one key thing they should keep in mind as they sit down to write?
DR: Our admissions committee uses essays to see beyond your test scores and academics. Effective and well-written essays let us get to know you beyond your transcripts and recommendation letters. We learn more about your writing style, storytelling and how self-aware you are.
The first essay question for UNC Kenan-Flagler is related to your career goals. Its purpose is to understand if your goals align with our concentrations and offerings to set you up for success at UNC Kenan-Flagler. For instance, if you indicate you want pursue your MBA to be a painter, the committee might raise a red flag. We do not offer classes in painting and therefore you might not be a strong candidate for the program. However, if you have a background as a painter and want to open your own art studio and be an entrepreneur, we can help with that!
We mixed things up for our second essay question this year. You can pick a prompt that provides you the opportunity to share your story. You can write about a professional or personal experience.
We encourage candidates to write essays based on their experiences and not what you think we might want to hear. Our readers and admission committee members are seasoned professionals who can pick up when you are not being genuine.
Be sure you have answered the question and check your grammar. Essay questions are unique to each school so make sure that you are that that into consideration when writing your answers.

CA: How many essays would you wager you've read in your tenure at UNC Kenan-Flagler? Thinking about the essays that have been the most memorable, is there something they have in common?
DR: I have spent over 12 years in higher education admissions and estimate I have read over 8,000 applications. In my first year at UNC Kenan-Flagler, my guess would be at least 300 MBA applications.
Essays are one of my favorite components of the application. This is where candidates can truly separate themselves from others in the applicant pool. Now that might not be a good thing given some of the essays I have read. However, the most memorable ones that have stood out to me are when I feel connected to the applicant.
By sharing personal experiences and goals, candidates who tell their story effectively make a huge impact on the admissions committee in a positive way. I appreciate when an applicant brings their story to life in an essay.
CA: Could you tell us about your interview process?  Approximately how many applicants do you interview? Who conducts the interview (students, admissions officers, alumni) and what is the nature of the interview (blind, non-blind)?
At UNC Kenan-Flagler, we offer open interview season in September and October. If you are considering applying, you can attend our Campus Visit Program on Monday, Tuesday or Thursday. During this time, you have the option to interview by submitting just your resume. The interview is only for that application season and will not be rolled over to the following year. On campus interviews are available during this time and will be incorporated into your campus visit schedule.
Starting November 1, interviews will be by invitation only by round. Selected candidates will be invited to schedule their interview, which can be conducted virtually or on campus. If you had your interview during open interview season, then you do not need to have a second one.
All of our interviews are blind. This means that our interviewers have access only to your resume. We have a mix of students and admission officers who will interview you. Just be you and you will be great!