"You do an MBA because you want the ROI; you ultimately want to gain your ideal career," says Shelly Heinrich, the associate dean of MBA admissions and director of marketing at Georgetown University's McDonough School of Business.  She joins us for our ongoing series, Admissions Director Q&A, to reveal how the Georgetown MBA delivers on that investment—and how you can be successful in the application process.
Heinrich leads the MBA Admissions team in both its marketing and operational strategy to build awareness, recruit, yield, and retain the Full-time and Flex MBA programs. She also develops the integrated marketing strategy for the team and manages the internal marketing team and external marketing firm in its execution.  Heinrich is a senior marketing professional with over 13 years of experience in the higher education, corporate, and nonprofit sectors.
Her responsibilities have included marketing, recruitment, business development, event planning, and public relations. With experience in five business schools, Heinrich brings a strong and tested knowledge of the business school industry and changing market trends.  She earned her master's degree in education from the University of Texas at Austin and a bachelor's degree in business administration from Texas Christian University. She recently completed a certificate of marketing from Georgetown University and the Executive MBA Program in the McDonough School of Business.
Read on for her account of a few unsung aspects of the Georgetown McDonough program, tips to knock your interview out of the park, and more.
Clear Admit: What's the single most exciting development, change, or event happening at Georgetown McDonough in the coming year?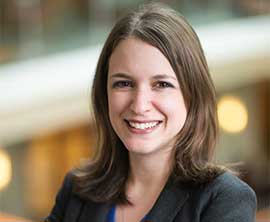 Shelly Heinrich: I'm very excited about two things. First, the inaugural cohort of our Flex MBA for working professionals just commenced. The Flex MBA is the next evolution of the Evening MBA, which began over 10 years ago. It provides more flexibility in duration, types of electives, and the use of technology.
For example, candidates can now complete the program in 2.5 to 5 years choosing the pace that works for them. So, if they want to speed it up to finish the degree, they can do so. If a student wants to stretch it out to accommodate a more manageable work-life-school balance or wants to better budget for the program, they also can do that.
For example, if you work in accounting and want to lessen the school load you have during tax season, you can do so. If you're planning a family and need to take a lighter load while you care for a newborn, you can do so as well.
The other exciting thing is the continued revamp of our leadership curriculum. This year we updated our orientation and opening term, adding a new course called Leading Teams for Performance and Impact (LTPI). We used to begin the program with more administrative housekeeping items. We didn't feel this structure set the stage for the beginning of the program or set students up for success to work in teams during the intense second portion of opening term, Structure of Global Industries.
The new LTPI course provides students with a week-long course for academic credit where they discuss topics such as giving and receiving feedback, implicit bias, diversity and inclusion, and leading teams. Students in this initial cohort have said they feel it provided them with the foundation for the first semester and rest of the program.
CA: What is the one aspect of your program that you wish applicants knew more about?
SH: All of the hands-on experiences that applicants receive when here. The opportunities are endless. All MBA students, Full-time and Flex, consult for an international company through our Global Business Experience. They receive a scope of work from the client and work to create a solution over the course of 6-8 weeks. They then travel to the country to present to the clients, returning to finalize their proposed solution.
All Full-time students consult for a local company through the mandatory Managing the Enterprise course. Last year, this course allowed our students to help the DC Metro system, WMATA, solve some of the organization's challenges.
First years also participate in the one-day Executive Challenge, the final exam for the Leadership Communications course. This day-long event brings more than 125 C-suite level alumni to campus from around the world to judge and coach our students through a simulated case competition. For second years who want to dive deep into leadership coaching, there is an opportunity to coach the first years through the preparation for the Executive Challenge.
Additionally, students have the opportunity to complete the Certificate in Consumer Analytics and Insights and Certificate in Nonmarket Strategy, both of which utilize the many experiences Washington, D.C., has to offer in these areas.
CA: Walk us through the life of an application in your office from an operational standpoint. What happens between the time an applicant clicks "submit" and the time the committee offers a final decision (e.g. how many "reads" does it get, how long is each "read," who reads it, does the committee convene to discuss it as a group, etc.)
SH: After each application deadline, our operations team begins processing applications to ensure they are complete. If any documentation or parts of the application are missing, we will contact the prospective student. Simultaneously, the admissions committee begins reading each file. There are multiple application readers, from both MBA Admissions and the MBA Career Center.
We then begin inviting people for interviews, which take place all the way up until the decision deadline. Throughout this waiting process, we try to immerse our applicants as much as possible into our community. We welcome requests from applicants for connections to students and clubs. Finally, we release decisions on the stated deadline.
CA: How does your team approach the essay portion of the application specifically? What are you looking for as you read the essays? Are there common mistakes that applicants should try to avoid? What is one key thing they should keep in mind as they sit down to write?
SH: I love the way we redesigned our essays last year. We used to have just one essay that all students had to answer. Last year we introduced having three essay topics, allowing students to choose only one. This way, they can highlight their diverse value proposition, which helps us find the candidates who best fit the values of our program and the diverse class and culture we have. Everyone has something unique about him or her, and this new format really allows people to shine with their competitive advantage.
CA: How many essays would you wager you've read in your tenure at Georgetown McDonough? Thinking about the essays that have been the most memorable, is there something they have in common?
SH: I've worked in MBA Admissions for almost 10 years at two schools. Doing a quick back-of-the-napkin math, I would estimate I've overseen the review of over 11,000 applications. While I haven't personally read all essays (as there is an entire admissions committee and team), it is safe to say that I've read thousands.
The ones that stand out the most are the ones where the applicant clearly took time to tailor the essay toward Georgetown McDonough, showing how our program clearly is the right fit for them. Additionally, the memorable ones also tell a story. Storytelling is important when you talk in front of audiences, and it's no different when you're writing. You want the reader to visualize who you are and what you bring to the classroom.
CA: Could you tell us about your interview process? Approximately how many applicants do you interview? Who conducts the interview (students, admissions officers, alumni) and what is the nature of the interview (blind, non-blind)?
SH: We have evaluative interviews. We read all applications before we invite people for interviews. Interviews are a requirement of admission, but not all candidates are interviewed. We interview as many people as we can; there is not a certain percentage who we interview. Sometimes people shine more in the interview process than they do in the application, so we certainly want to see that aspect of their candidacy.
Prospective students can be interviewed by an MBA student, alumnus, MBA Admissions staff member, or another member of the Georgetown McDonough community. All interviewers are specifically selected and go through a thorough training process. They are people who are immersed in our communities and can speak highly of the program.
Additionally, all interviews are blind — we will have seen your resume, but not your application. The purpose is to ensure we have an unbiased view of your application. If you have a very high GMAT, we don't want to go into the interview with a biased positive view of your candidacy. On the flipside, if you have low test scores or academic profiles, we don't want begin with a negative view of your candidacy. We have a holistic evaluation, and we seek the best fit for our program and community over individual application components.
CA: Anything else you would like to add?
SH: You do an MBA because you want the ROI; you ultimately want to gain your ideal career. I'm very proud of our Bloomberg Businessweek Recruiter Insights ranking. When over 3,000 recruiters responded to a survey, they said that our MBA graduates were the best trained of other schools. This shows the weight and preparation of the Georgetown MBA and students should feel confident in what this means.