Welcome to another edition of our series, Admissions Director Q&A!  This week, we are excited to feature Soojin Kwon, the Managing Director for Full-time MBA Admissions and Program at the Michigan Ross School of Business. Kwon has led MBA Admissions since 2006 and, since 2016, the student experience and academic advising of the MBA programs.
Before joining Ross, Kwon was a Manager in Deloitte's Strategy and Operations practice. Prior to consulting, she served as a Presidential Management Fellow, doing rotations with the Senate Budget Committee, House Appropriations Committee, and Department of Commerce.
Kwon holds an MBA from Ross, a Master in Public Policy from Harvard's Kennedy School of Government, and a B.A. in Economics and Political Science from Yale. She has served on the boards of the Forte Foundation, Greenhills School, and ETS' Business School Advisory Council.
Clear Admit was thrilled to sit down with Kwon to discuss the brand new +Impact Studio, Michigan Ross's unique interview process, reflections on 15 years' of admissions essays, and more.
Clear Admit: What's the single most exciting development, change, or event happening at Michigan Ross in the coming year?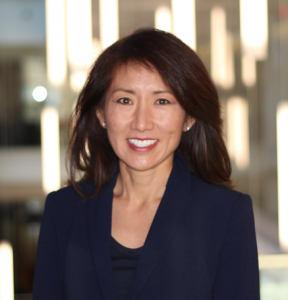 Soojin Kwon: I'm really excited about the +Impact Studio that is launching this fall at the Ross School of Business. The +Impact Studio – part of the Business+Impact initiative at Michigan Ross – is aimed at translating insights from faculty research into practical solutions for big societal challenges.
This new initiative encompasses: an interdisciplinary action-based learning course; a collaboration space for an educational community passionate about design for impact; and a campus hub for programming and events. The course is open to MBA students at Michigan Ross, along with graduate students from across the University of Michigan.
The pilot course took place this past semester. Students looked into how to scale a technology developed by Ross marketing professor Eric Schwartz that is being used to identify lead in Flint water pipes so that it can have a greater impact in Flint and beyond. This coming year, students will continue to work on ways to create enterprises for safer infrastructure using Schwartz's research, as well as explore how faculty insights into fintech can create financial inclusion for those who lack access to traditional financial systems, such as bank accounts.
CA: What is the one aspect of your program that you wish applicants knew more about?
SK: At Michigan Ross, we take our commitment to the lifelong professional success of our students seriously. This means that we provide students with lots of innovative and impactful learning experiences and career support before graduation, and long after they leave here.
We were the first leading business school to offer our alumni full-tuition scholarships to any of our executive education open enrollment programs that are delivered around the world (and a half-tuition scholarship for colleagues of our alums). This allows alumni to explore new and emerging business topics and trends as needed throughout their careers.
In addition, our students and alumni have free access to the ever-growing collection of on-demand online courses, series, and specializations offered by leading faculty across the University of Michigan at Michigan Online so that they can learn new skills beyond business. We also offer alumni personalized one-on-one career advice from dedicated career staff for free throughout their career, in addition to on-demand tools, webinars, and other support.
CA: Walk us through the life of an application in your office from an operational standpoint. What happens between the time an applicant clicks "submit" and the time the committee offers a final decision (e.g. how many "reads" does it get, how long is each "read," who reads it, does the committee convene to discuss it as a group, etc.)?
SK: There's a "first read" and a "second read." We typically start each read with the applicant's résumé to give us a big picture of who the candidate is. Then we delve into the transcripts, essays, and letter of recommendation. Every member of the admissions committee reads applications of candidates from all different regions and backgrounds to get a sense of the strength of our candidate pool.
The two things we focus on in the first read are academic ability and nature of their work experience. We're trying to assess whether they can do the work of an MBA student, and then will they contribute to the learning experience of their classmates. Based on the first read, some applicants are invited to interview and their application is moved on to a second read which occurs following the interview.
For second reads, we assign applications based on candidate backgrounds so the reader can utilize their expertise on the backgrounds of different groups. Those who do not receive an interview invitation are reviewed again by another reader. This latter group could be waitlisted and invited to interview in a subsequent round or denied at the conclusion of the round.
Those who are invited have the option to do their one-on-one interview on campus or in their local area with an alum or via Skype. Interviewees who choose to interview on campus or in one of our four international hub locations have the opportunity to demonstrate their interpersonal and communication skills through the team exercise, on top of the one-on-one interview.
Following the interviews, the Admission Committee will meet as a group for two extended sessions. The first is typically a check-in point where we review borderline cases to calibrate as a team. Finally, before all decisions are released, the team gathers as a group for multiple days to review all admissions decisions.
CA: How does your team approach the essay portion of the application specifically? What are you looking for as you read the essays? Are there common mistakes that applicants should try to avoid? What is one key thing they should keep in mind as they sit down to write?
SK: The essays provide us with the ability to get a sense of who the applicants are, and the experiences that have shaped them. We approach the essay portion of the application looking to get a glimpse of who the applicants are – outside of what we see from their transcripts, test scores, and resume – and hear about their unique stories.
Some common "mistakes" we see in essays are: (1) applicants think they need to share a "hero" story – i.e., one in which they demonstrate how they saved a project or helped someone in need so they "look good"; and, (2) career goal essays that are vague or general. The essays should be used to provide more depth to the story of you, not to share an accomplishment that isn't in your resume.
We want to see that applicants are reflective and self-aware, as those are important aspects of leadership. The career goal essays that fall short are the ones that don't clearly explain why they are interested in a particular career. We want to know how an applicant's experience, interests, and skills shape their goal.
The one key thing applicants should keep in mind as they sit down to write is to focus on highlighting the "whys": Why are you interested in something? Why did you feel ___ (humbled, challenged, out of your comfort zone, etc.)? That is the most interesting part of someone's story because it tells us more about who they are and how they think about themselves. It makes them three-dimensional.
See how I would answer the Michigan Ross essay questions in this blog.
CA: How many essays would you wager you've read in your tenure at [school]? Thinking about the essays that have been the most memorable, is there something they have in common?
SK: I've worked in Ross Admissions for almost 15 years. In that time, I've read tens of thousands of essays. The most memorable are the ones in which the applicant shared something very personal and thoughtful. They weren't necessarily unique stories, but they shared clear insight into their values, interests and motivations, and made me want to learn more about them. What they had in common was that they demonstrated the ability to reflect and be thoughtful, not just share things that have happened in their lives.
CA: Could you tell us about your interview process? Approximately how many applicants do you interview? Who conducts the interview (students, admissions officers, alumni) and what is the nature of the interview (blind, non-blind)?
SK: Applicants can interview in one of three ways: on campus, off campus, and virtually. Graduating MBAs conduct our on campus and virtual interviews. Alumni interview applicants off campus. Our interviewers see only the applicant's resume. We conduct about 1,500 interviews each year.
A unique aspect of our interview process is the Team Exercise. Applicants are assigned to small groups of five or six and tasked with developing a mock business challenge facing a client using a set of randomly selected words. The Team Exercise is offered on campus and in select international markets; participation is optional.