This week, Stanford Graduate School of Business (GSB) released its MBA Class of 2021 profile. The details revealed massive growth in diversity—particularly when it came to female students—and continued high qualifications for acceptance. Let's dive into the Stanford GSB MBA Class of 2021.
Historic Number of Female Candidates

Although Stanford's application volume dropped nearly 10 percent compared to the record high of last year—7,342 applicants compared to 8,116—female applicants were more impressive than ever. In fact, the female applicants stood out so much that the MBA Class of 2021 reached a historic high 47 percent females—a 6 percent increase over last year.
For the first time, Stanford GSB is just a few steps away from achieving gender parity, which is very exciting, according to Kirsten Moss, assistant dean of MBA admissions and financial aid.
"This year, the percentage of women in Stanford GSB's MBA class reached a historic high, almost achieving gender parity at 47 percent. We are excited to see a 6 percent increase from last year, perhaps reflecting our expanded efforts to encourage female applicants to pursue an MBA degree," said Moss. "We have been introducing an increasing number of events for women applicants over the last few years. This summer, for example, GSB students shared their MBA experience in small-group chats with hundreds of women around the globe from Auburn, Alabama to Windhoek, Namibia."
Improved International Diversity
GSB also had a stand out year when it came to international student diversity. For the first time in three years, the percentage of international students increased from 40 percent to 43 percent with students coming from 65 different countries and 80 institutions around the world. And while the number of U.S. minority students decreased slightly from the record-high of 29 percent last year down to 27 percent, it's still high compared to the Class of 2017's 19 percent.
"As diversity, equity and inclusion is a key priority for the GSB, we will continue our charge to attract a uniquely diverse student body," said Moss. "We look forward to welcoming the Class of 2021!"
Impressive Academics Still a Must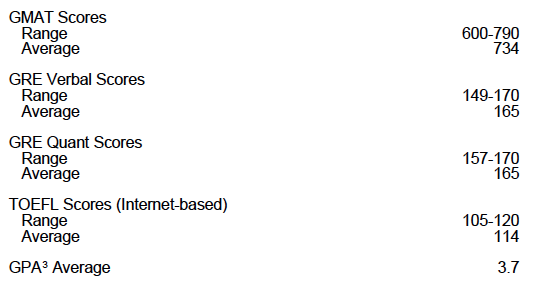 Stanford GSB has always been known for requiring high GMAT scores out of its applicants, and the Class of 2021 was no different. The average GMAT score, while down from 737 last year, was still a remarkable 734. It makes GSB a clear front runner among leading business schools, especially when you take into consideration the very narrow score range. This year the scores fell between 600 and 790, compared to last year's range of 590 to 790.  Nineteen percent of the class had taken the GRE.
International students accepted into the program maintained an average TOEFL score of 114, up two points from last year's 112, with an overall range between 105 – 120. The average GPA slipped slightly this year to 3.7 from 3.73.
A Wide Range of Work Experience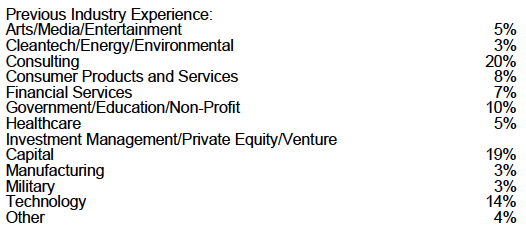 The 417 students entering Stanford GSB Class of 2021 came from a range of backgrounds. When it came to their undergraduate degrees, 50 percent studied humanities and social sciences, 33 percent studied engineering/math/natural sciences, and only 17 percent studied business.
After their undergraduate years, those students entered a wide range of industries. Twenty percent came from consulting, 19 percent investment management/private equity/venture capital, and 14 percent technology. Other top industries include government/education/non-profit (10 percent), consumer products and services (8 percent), and financial services (7 percent).
For a more in-depth look at the Class of 2021, click here