In this edition of our ongoing series, Admissions Director Q&A, we stop by the Bay Area of California.  Morgan Bernstein is the executive director of full-time MBA admissions at Berkeley's Haas School of Business, and a 2009 alumna of the program. Bernstein is deeply passionate about helping prospective students navigate the business school landscape, and brings an authentic, compassionate, and transparent approach to her admissions processes.
Bernstein is inspired daily by Haas students and carefully curates a community that demonstrates curiosity, self-awareness, resilience, and optimism—among other leadership attributes. Before joining the Haas admissions team in 2011, Bernstein primarily worked in marketing and general strategy roles in the technology, education management, and services industries. When not recruiting the next class of future business leaders, Bernstein can be found chasing after her two young children with her fellow MBA 2009 husband, training for her next running event, or exploring California wine country with friends.
Clear Admit had an opportunity to talk with Bernstein about the MBA application essays, Haas's new Certificate in Business Analytics, the new concurrent MBA/Master of Engineering degree, Haas's proximity to the Bay Area's innovation ecosystem, and more.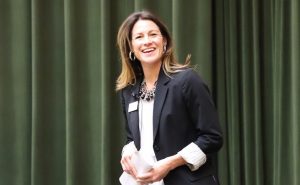 Clear Admit: What's the single most exciting development, change, or event happening at Haas in the coming year?
Morgan Bernstein: There are a number of exciting developments and changes, including the launch of our Certificate in Business Analytics and our new MBA/Master of Engineering concurrent degree. One of the key developments is that our international graduates are now eligible to apply for the STEM OPT extension during their post-MBA employment authorization.
Although the eventual approval of those extensions depends on the training plans that the employers and the MBA graduates submit, we anticipate that this will lead to expanded opportunities for our international graduates who pursue jobs incorporating business analytics, modeling, forecasting, and other skills developed through our program.
CA: What is the one aspect of your program that you wish applicants knew more about?
MB: We talk a lot about our Bay Area location, and I think this is an element of our program that can be underappreciated by applicants.
Haas is within a 30- to 45-minute drive of San Francisco and Silicon Valley. This literally puts our students at the doorstep of the innovation ecosystem, regardless of their intended industry or function. Acclaimed business leaders, investors, and entrepreneurs are not only in our backyard, they are on campus, in the classrooms, and actively engaged in the student experience.
We know that students want multidimensional learning opportunities and our Bay Area location, coupled with our connection to the broader UC Berkeley campus, deliver unparalleled opportunities.
CA: Walk us through the life of an application in your office from an operational standpoint. What happens between the time an applicant clicks "submit" and the time the committee offers a final decision (e.g. how many "reads" does it get, how long is each "read," who reads it, does the committee convene to discuss it as a group, etc.).
MB: Applications are initially reviewed by one to three admissions team members, with each review typically lasting 15-45 minutes. After a preliminary review, approximately 30 percent of applicants will be invited to interview. Candidates who complete an interview are then reviewed and discussed by the admissions committee, at which point a decision is rendered.
CA: How does your team approach the essay portion of the application specifically? What are you looking for as you read the essays? Are there common mistakes that applicants should try to avoid? What is one key thing they should keep in mind as they sit down to write?
MB: We view essays as an opportunity for candidates to round out their MBA story. Unlike test scores, undergraduate GPA, or letters of recommendation, the essay section is one of the few application elements that give candidates complete control. Given that, it's always interesting to see what applicants choose to share with us.
There is no right or wrong essay answer, so we are not looking for any particular response. In general, essays that are the most memorable for us are ones where candidates are willing to let down their guard and show us their authentic self—a vulnerability, a weakness, a moment of growth. Candidates can be overly concerned about only highlighting their achievements, awards and "A+" self that they neglect to show us their human side and help us see how they'll show up in our community. Business school is not about perfection, it's about taking risks and stepping outside of your comfort zone. We appreciate seeing evidence of this imperfection in the application, and essays are frequently where candidates share this story with us.
CA: How many essays would you wager you've read in your tenure at [school]? Thinking about the essays that have been the most memorable, is there something they have in common?
MB: Tens of thousands…see above for most memorable.
CA: Could you tell us about your interview process? Approximately how many applicants do you interview? Who conducts the interview (students, admissions officers, alumni) and what is the nature of the interview (blind, non-blind)?
MB: Interviews are required for admission and we typically interview around 30 percent of our applicants, though this can vary year-to-year. Candidates who are invited to interview can choose from among three interview types: on-campus with a current student, off-campus with an alum, or online via a video platform.
Applicants are encouraged to select the interview type that best fits their schedule. All interviews follow a similar format, and candidates can expect to discuss their career goals, specific interest in Berkeley Haas, leadership experience and fit with our Defining Leadership Principles and commitment to diversity, equity, and inclusion.